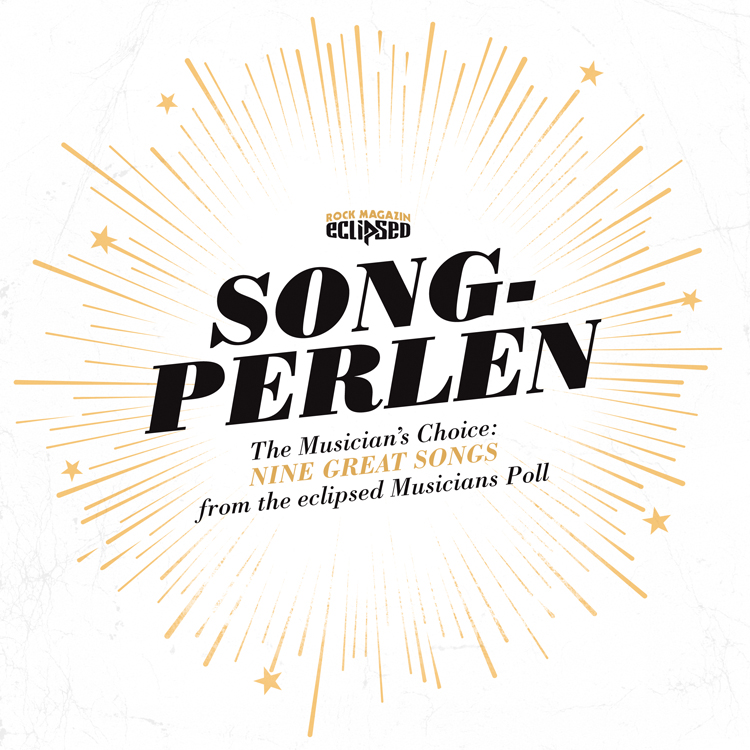 CD1 (White Album): "Song Beads"
The Musician's Choice: Nine Great Songs from the eclipsed Musicians Poll, eclipsed 05/18 (200th edition) 1st

SUFJAN STEVENS - Come On! Feel The Illinoise! (6:45) Album
: Illinois (2005) Label/Distribution
: Asthmatic Kitty/Cargohttps://sufjan.com
2. ISLA DEL ROJO - Isla Del Rojo (2:44) Album
: Isla Del Rojo (2017) Label/Distribution
: Tona Serenad
https://www.facebook.com/isladelrojo 3rd

GROUP 1850 - Paradise Now (5:23) Album
Paradise Now (1969) Label/Distribution
: (Pseudonym/Entertainment.nl)
https://en.wikipedia.org/wiki/Group_1850
4. ANEKDOTEN - Monolith (6:07) Album
: Gravity (2003) Label/Distribution
: Stickman/Indigowww.anekdoten.se
5. LONG DISTANCE CALLING - Aurora (8:42) Album
: Satellite Bay (2007) Label/Distribution
: InsideOut/Sonywww.longdistancecalling.de
6. THE GATHERING - Red Is A Slow Colour (6:25) Album
. How To Measure A Planet (1998) Label/Distribution
: Century Media/Sonywww.gathering.nl
7. SEBASTIAN HARDIE - Four Moments -Journey Through Our Dreams (6:43) Album
: Four Moments (1975/1999) Label/Distribution
: Sebastian Hardie Music
www.sebastianhardie.com.au
8. MICHAEL ANDREWS - The Dentist (2:52) Album
: Spilling A Rainbow (2012) Label/Distribution
: Everloving Records/H'Art
https://michaelandrews.bandcamp.com
9. THE DIVINE COMEDY - Eric The Gardener (8:20) Album
: Fin de Siècle (1998) Label
/ Distribution: Setanta/Virginhttp://thedivinecomedy.com/
"Prog Pearls": The Editor's Choice: The World Of Prog And Artrock (1990-present)
The editors have decided: Ten highlight tracks from the Prog-Modern era, some of them from albums that are currently no longer officially available. Prog On!
1. ARENA - The Hanging Tree (7:09) Album
: The Visitor (1998) Label/Distribution
: Verglas/www.arenaband.co.uk
With the concept album "The Visitor" ARENA delivered one of their strongest works. Paul Wrightson's vocals and the grandiose keyboard and guitar interplay of Clive Nolan and John Mitchell refined bombast grenades like "A Crack In The Ice" and "Double Vision" as well as the epic ballad "The Hanging Tree".
2.
"Blackwater Park" was a milestone in OPETH's work at the time. In Steven Wilson the Swedes found a congenial producer who elicited completely new facets from them. The outstanding half ballad "The Drapery Falls" oscillates between delicate acoustic passages and wild Death-/Black-Metal outbursts.
3. TRANSATLANTIC - We All Need Some Light (5:45) Album
: SMPTe (2000/2009) Label/Distribution
: InsideOut/Sonywww.transatlanticweb.com
TRANSATLANTIC were the first prog-supergroup of the zero years. With "SMPTe" they presented a grandiose debut which included the longtracks "All Of The Above" and "My New World" as well as the melancholic Neal Morse ballad "We All Need Some Light" which became a fan favourite. Heartwarming!
4. IONA - Inside My Heart (6:09) Album
: Journey Into The Morn (1995) Label/Distribution
: Open Sky
www.iona.uk.com
A song like a beautiful dream. It flatters, sweeps you along and just makes you feel good. IONA, the band around angel voice Joanne Hogg, delivers an absolute masterpiece of progressive folk music. Carried by a brilliant vocal melody, the song culminates in a simply furious guitar solo.
5. INCENSE - Static (6:08) Album
: On Tip Of Wings We Walk (2003) Label/Distribution
: Suburban/Soulfoodhttps://suburban.nl.artists
The trio INCENSE was a co-founder of what is today known under the label New Artrock. Large sound cascades are created gently and cautiously, into which you can immerse yourself wonderfully. The Dutch had the potential to go down in music history as much more than just an insider's tip.
6. ENCHANT - My Enemy (6:58) Album
: Break (1998) Label/Distribution
: InsideOut/Sonywww.enchantband.com
Is there a perfect song? I don't think so. But there are pieces that come damn close to perfection. ENCHANT have created such a piece with "My Enemy": a wonderful interplay between soft melodies, healthy hardness, a fantastic refrain and very fine instrumental passages.
7. IL TRONO DEI RICORDI - The King Of Memories (9:17) (edit) Album
: Il Trono Dei Ricordi (1994) Label/Distribution
: The Labyrinthhttp://www.babyblaue-seiten.de/band_599.html
An almost forgotten and unnoticed classic of the symphonic prog of the nineties. The Italians IL TRONO DEI RICORDI offer experienced and playful prog, which is always virtuoso, but never in love with itself. Inspired by the poems of William Blake, you can also immerse yourself deeply in another world.
8. IZZ - I Wanna Win (5:43) Album
: I Move (2002) Label/Distribution
: Doone/Just For Kickswww.izzmusic.com
The New York formation IZZ recommended themselves with their 1998 debut as an original Progband, which acted a little more cheeky than the majority of the competition. The successor "I Move" continues this approach: "I Wanna Win" is a bag of ideas that skilfully combines tradition and modernity.
9. DJAM KARET - Web Of Medea (7:04) Album
: New Dark Age (2001) Label/Distribution
: Cuneiform/Broken Silencehttps://djamkaret.bandcamp.com
DJAM KARET from Claremont/California were already founded in 1984, but presented themselves on "New Dark Age" at the height of time. No matter if you like prog, jamrock, space games or ambient: You'll be well served here. In "Web Of Medea" the Americans recommend themselves as heirs of King Crimson.
10. MOGWAI - New Paths To Helicon Pt. 1 (8:10) Album
: Special Moves (2010) Label/Distribution
: Rock Action/PIAS/Rough Trade
www.mogwai.co.uk
The kings of widescreen sound. MOGWAI inevitably suck the listener deep into their own sometimes fragile, sometimes brute sound world. It is almost impossible to escape this suction. But once you get there, you don't want to leave. New Artrock, the kind you can hardly imagine.