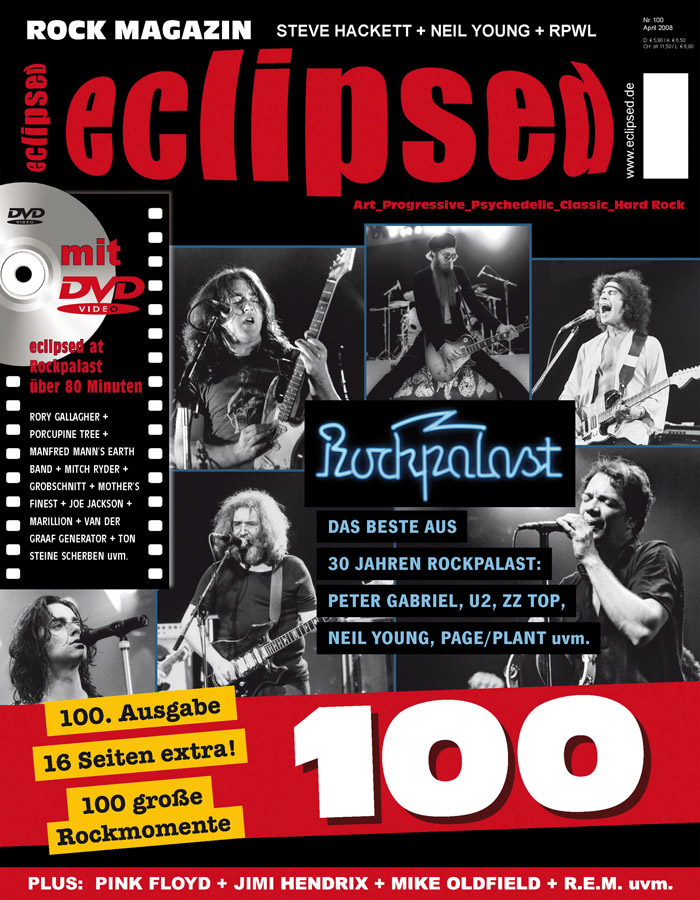 eclipsed at Rockpalast
"Tschörmen tellewischen praudli prisents..."
"Rockpalast" - this name still awakens happy memories of long nights, great parties and extraordinary concerts for rock fans decades later. And the palace still keeps its portal open today. But it was the early "Rockpalast" nights that gave the musical building its historic glory.
100 memorable events in rock history
100 eclipsed editions - you can be a little proud of that. But instead of driving the celebration pig (we have a replica of Pink Floyd's balloon pig, of course) through the editorial rooms for 100 hours, as would have been appropriate for a rock'n'roll magazine, we gave preference to another rock musician virtue and racked our brains in a 100-hour session to compile 100 memorable events in rock history. Here's the result of this monster jam. Have fun immersing yourself in the "(eclipsed-)" rock history.
VAN DER GRAAF GENERATOR
The Dark Triangle
Three years ago, they reappeared on the scene completely surprisingly. However, after David Jackson's exit shortly afterwards, the fate of Van der Graaf Generator seemed to be sealed again. But the three remaining musicians saw the idea of acting as a trio as an invitation to completely redefine their sound. The result is called "Trisector" and effortlessly achieves the quality of the classic Van-der-Graaf albums. Peter Hammill, Hugh Banton and Guy Evans gave us information about the new route.
BURG HERZBERG FESTIVAL 2008
"It's getting more and more beautiful"
40 years and not a bit quiet. For the anniversary there are some special treats waiting for all hippies and those who want to become hippies. For some artists it will be a "Hello again". But don't worry, Howie's not at the start.
MIKE OLDFIELD
Celestial bodies and sky violins
Mike Oldfield, whose "Tubular Bells" in 1973 heralded a new era in the history of progressive rock music, now surprises with a classic album. It is hardly surprising that the man who has always stood with one leg in the New Age pool has ambitions towards heavenly violins. Only this time he makes nails with heads and plays a flawless orchestral work. But what is "Music Of The Spheres" anyway? A symphony? "New Classics"? "If it's up to me," says the shy Briton himself, "it's certainly classical music. eclipsed met the 54-year-old multi-instrumentalist in Berlin.
STEVE HACKETT
The acoustic ascent of Mount Everest
Steve Hackett has presented a new, purely acoustic album. On "Tribute" the 57-year-old indulges above all in his love for the music of Johann Sebastian Bach. As a member of Genesis, Hackett had already recorded classicistic gems such as "Horizons", "After The Ordeal" or the wonderful introduction to "Blood On The Rooftops". In the course of his solo career he flirted several times with classical music (see box). Heavy food sometimes. Where is this man going? And what's the status of Genesis' "The Lamb" live project? Questions that Steve Hackett asked himself in an interview with eclipsed.
RPWL
Do not resign, just look
With "The RPWL Experience", RPWL present their fourth "regular" studio album - and absolutely live up to their title. This disc is indeed an "experience", because singer and keyboarder Yogi Lang, guitarist Karlheinz "Kalle" Wallner, bassist Chris Postl and drummer Manni Müller present what the steadily growing following expects: an expansion of the musical microcosm.
R.E.M.
Time's up!
After a four-year record break, R.E.M. returns with a new work. On "Accelerate", the US alternative icons present themselves as biting, angular and rocky as they haven't for a long time. Reason enough for a musical assessment with guitarist Peter Buck: At the eclipsed date in New York, the workaholic reflects on internal tensions, fatal mistakes, creative rethinking and the upcoming world tour.
READER POLL 2007!
Your albums, artists, live events and flops of the past year!
IAN GILLAN
Made in America
Even though April marks the 40th anniversary of the founding of Deep Purple (an extensive special is waiting for you in time for the German tour in July/August), at the moment only singer Ian Gillan with his current album "Live In Anaheim" is the focus of interest..
eclipsed-SALE SHEET
JEAN MICHEL JARRE - Electronique à la mode
Keep the text up! Cult songs and their meaning
PINK FLOYD - TIME
THE MOMENT COMES WHEN YOU REALIZE THAT TIME HAS NOT PASSED YOU BY WITHOUT A TRACE. AT ROGER WATERS THIS MOMENT CAME AT THE AGE OF 28 AND HE WONDERED WHAT HE HAD DONE WITH HIS TIME.