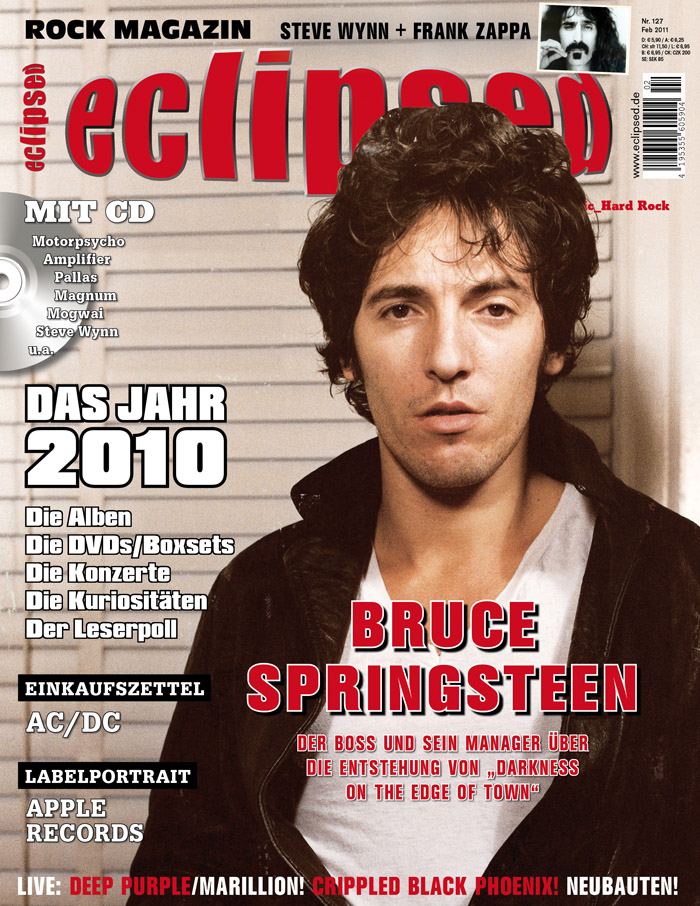 BRUCE SPRINGSTEEN
Light into the dark on the outskirts of the city
A new documentary highlights the genesis of "Darkness On The Edge Of Town". Bruce Springsteen and Jon Landau independently remember a story that never let go of the boss.
The eclipsed annual review 2010
What was true for the last twelve months in the first decade of the 21st century is also true for the first year in the new decade: Rock with its many facets cannot be reduced - many old fighters are still there, but nobody has to worry about young talent either.
ROSE KEMP
The Acceptance of the Terrible
Rose Kemp has presented a disturbing and fascinating successor to her album "Unholy Majesty". The mood and tonal shades of "Golden Shroud" range from care-grey to tedious black. The artist herself, of course, sees "extremely optimistic songs" in the three longtracks.
WOLF PEOPLE
Something for everyone
Their music delights both classic and psychedelic rock fans alike. And folk rock enthusiasts also feel at home with Wolf People. Despite many musical quotes, for example from Deep Purple or Traffic, the debut album of the British band stands for itself.
APPLE RECORDS
Please strong - crash! - bite
Golden Delicious, Braeburn or Elstar - that was the question that the Beatles racked their brains about when searching for a logo for their record label. Finally, the Fab Four opted for the beautifully shaped, albeit sour Granny Smith, which now adorned the labels. A 17 CD box now reminds once again of the very special label and its artists. We remember with.
FRANK ZAPPA
Hard nuts for posterity
Frank Zappa would have been 70 years old on 21 December 2010. It is not difficult to imagine the citizen fright with white curls and deep wrinkles. The icon Zappa is ubiquitous. His music, on the other hand, hardly: The cult poster with his trousers down on the toilet is probably known by far more people than his album "Freak Out". Who was this Frank Zappa, what is he giving us today, and why did he become the way he was?
Keep the text up! Cult songs and their meaning
R.E.M. - IT'S THE END OF THE WORLD AS WE KNOW IT (AND I FEEL FINE)
When R.E.M. released "It's The End Of The World As We Know It" in 1987, they hit the nerve of the time with their gloomy prognoses for the future. The text is based on a nightmare - and evokes associations with a zipped television evening.
Shopping list AC/DC
Let There Be Rock!
Let there be sound! Let there be drums! Let there be guitar! Let there be ROCK!!! The formula with which AC/DC conquered the rock world from Australia is as simple as it is effective. Nourished by blues and traditional rock'n'roll, the band around the songwriting trio Malcolm and Angus Young as well as frontman Bon Scott developed a rock show from 1973/74, which has washed itself..