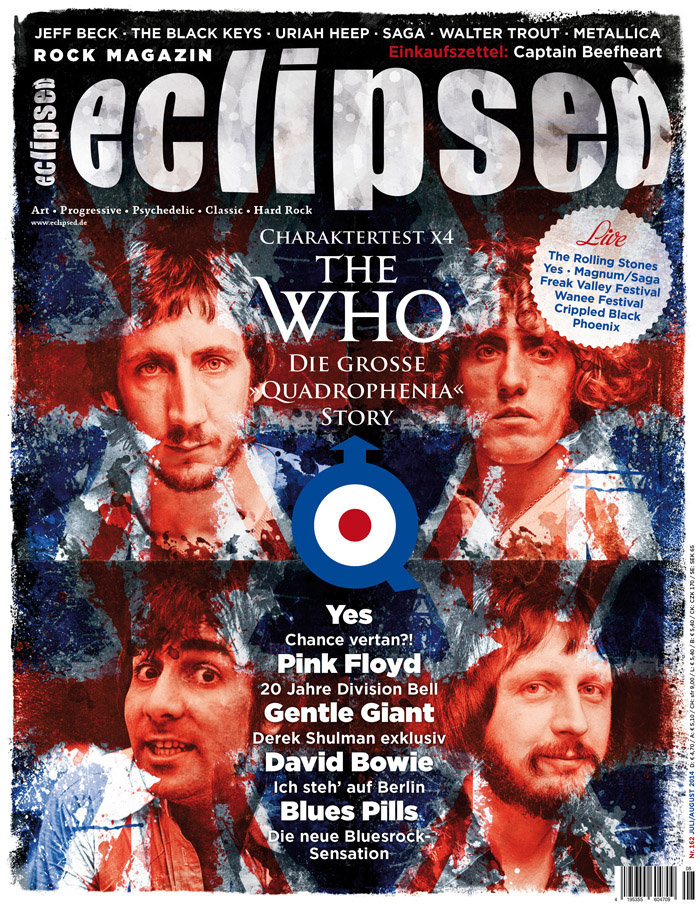 THE WHO
The Story of Quadrophenia
"'Tommy' changed everything and saved us," Pete Townshend remembers in the introductory essay to the 2011 re-release of "Quadrophenia". Basically, The Who had been a singles band in the sixties; the sudden intellectualization of pop music had posed a new, unexpected challenge to its thought leader. "People suddenly wanted to hear 'serious' music from pop groups.
YES
Between heaven and earth
We remember: On 4 June 2008, the comeback tour with Yes singer Jon Anderson was cancelled due to his health problems. Anderson had been hospitalized only a few weeks earlier for an asthma attack. The doctors had strongly advised him against concerts in the near future.
DAVID BOWIE
An Exhibition
As you know, you should let your loved ones rest. But David Bowie once again flirted with his great romance, almost forty years after his first encounter: "Where are we now?", the song with which he surprisingly returned last year, is an ode to Berlin.
THE BLACK KEYS
Gold and Platinum everywhere
And that makes guitarist/singer Dan Auerbach (35) really angry. He has the feeling that he will not be granted success, that mass compatibility will suddenly be something dirty and negative, and that as an artist he must not grow, but should always serve the same thing.
BLUES PILLS
Everybody's Darling
For quite some time now Blues Pills have been an absolute favourite with critics. This is mainly due to the two front men. Elin Larsson, the Swedish singer, has an organ that goes to her heart's content - and to the men, even to other regions, if you listen to the urinal pool conversations during and after a Blues Pills gig.
PINK FLOYD
Two decades after The Division Bell
It was a shock. The first PR photos, published in March 1994, shortly before the release of "The Division Bell", showed an emaciated David Gilmour. He looked lean and hard, his grey hair shorn short. Perhaps he was marked by the fights that had raged between him and his former band colleague Roger Waters in the late eighties.
GENTLE GIANT
Sleeping Giant
These days "The Power And The Glory" is the first release in a hopefully long series of new editions of Gentle Giant's albums. In recent years there have been numerous, sometimes half-hearted attempts to bring the works back into the consciousness of prog fans. But now Steven Wilson - after King Crimson, Jethro Tull and Yes - has taken care of probably the most complex of all prog legends and made his remix skills available to her. The result is phenomenal.
JEFF BECK
The silent singer
Eric Clapton, Jimi Hendrix, Jimmy Page, Keith Richards - all the great guitarists of the classical rock era have something in common without which a success story in the pop business would be inconceivable: hits. Jeff Beck has to pass.
SAGA
Futuristic and virtuosic
In 1978, the debut album of the Canadian prog formation Saga featured a golden insect that has since become a kind of band mascot. The chapters, the mosaic stones that together form a science fiction march around Albert Einstein's preserved brain, were found non-chronologically on the saga albums from 1978 to 2003.
JACK WHITE
Old Fashioned
For fourteen years, the White Stripes screwed and shredded the shortest connection between punk and blues, bypassing all frills and diversions. In the long run, however, guitarist Jack White was not enough for this action area, and he additionally founded bands like Dead Weather or Die Raconteurs. All these groups are temporary history. Lazaretto" is his second solo appearance.
STIAN WESTERHUS
Sing to whom singing is given
"Maelstrom", the title of Stian Westerhus' new album, is the program: The guitarist and singer touches on it a bubbling mixture of styles, which fascinates again and again and draws the listener into itself. The Norwegian directs his band Pale Horses, which consists of keyboarder Øystein Moen and drummer Erland Dahlen, through experimental, psychedelic and prog waters and refines the whole thing with his expressive vocals, reminiscent of Jeff Buckley, Scott Walker and Chris Martin.
COLLAPSE UNDER THE EMPIRE
The load on the Titan's shoulders
In Greek mythology, Atlas carries the vault of heaven on his shoulders. Even Titan might have lifted himself up on the sound block "Shoulders & Giants", which Collapse Under The Empire created three years ago: instrumental flights of fancy, which draw their power from a nerve-racking tension, made this album the climax in the work of the North German post rockers to date.
BRIAN JONESTOWN MASSACRE
In the footsteps of Johann Sebastian Bach
The Brian Jonestown Massacre is one of the longest serving bands that mediates between transfigured sixties psychedelia and violent shoegazing. Groups like the Wooden Shjips or the Black Angels would be unthinkable without the preparatory work of BJM. Founded by Anton Newcombe at the beginning of the nineties in San Francisco and now based in Berlin, the band is now releasing their 15th album.
URIAH HEEP
statement about joie de vivre
Life can be so simple. Just do what you like and you will do it with joy, energy and passion - if you have to until retirement age. "Sure, I still have a lot of fun, otherwise I wouldn't do what I do," says Mick Box, last remaining founding member of Uriah Heep. eclipsed caught him a few days before his sixty-seventh birthday on June 9.