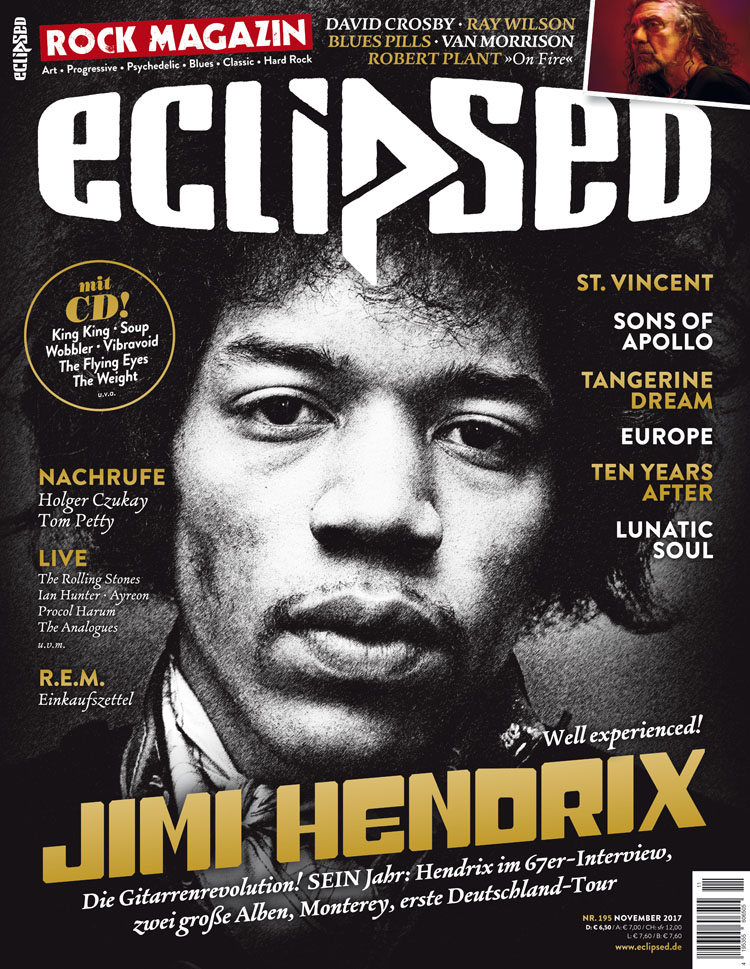 JIMI HENDRIX - The leap into the bottomless pit
No, a reputation like Donnerhall did not precede Jimi Hendrix when he climbed out of the plane on 24 September 1966 in London at the side of his new manager, the ex-animal bassist Chas Chandler. But only a few months after his arrival the man from Seattle was on everyone's lips. And by the end of 1967 he had not only taken guitar playing, but rock music as a whole into a new dimension. "Suddenly this stranger comes running along, and all hell breaks loose," said Jack Bruce. We follow Hendrix' numerous stations in this year, which was so decisive for him, when the incomparable jumped off the Rainbow Bridge.
LUNATIC SOUL - The end is approaching
Only a few front people of a progressive rock formation succeed in doing what Mariusz Duda did: creating a sensation with a solo project similar to that of the main band. The singer and bassist of Artrocker Riverside presents "Fractured", the fifth album of his passionately cultivated sideline Lunatic Soul. In the interview, however, the Pole hints that Lunatic Soul might be over in the not too distant future.
BLUES PILLS - We want more, we want more
In times of the collapsing sound carrier market Blues Pills belonged from the beginning to the bands, which proceed according to the principle "You have no chance, therefore use them". The multinational retroro rock formation wanted to play as much live as possible. And so it hasn't shied away from a festival, a support slot or a location, no matter how absurd, since it was founded. On the European mainland, they have long since become headliners. A proof of their live quality the band delivers now also with "Lady In Gold: Live In Paris".
SONS OF APOLLO - Dream Theater 2.0, my ass!
Drummer legend Mike Portnoy and keyboard witch Derek Sherinian are sure: Their new formation Sons Of Apollo is more than just Progressive Metal. Together with Billy Sheehan, Ron "Bumblefoot" Thal, Jeff Scott Soto and the debut LP "Psychotic Symphony", they set out to conquer the music world anew.
TANGERINE DREAM - Electronic noise according to Froese
After the death of Edgar Froese it was long unclear whether and how Tangerine Dream would continue. Now it's time to celebrate its fiftieth anniversary, Germany's oldest electronics formation. The group, which no longer has a founding member, releases the studio album "Quantum Gate". Froese left his mark on this one. At the same time his autobiography, already announced several times, is published.
DAVID CROSBY - Secret power reserves
At seventy-six, David Crosby is an old, sick man. White-haired, frail, beaten with diabetes and hepatitis C. But as far as music is concerned, the US-American Woodstock veteran is currently experiencing the most productive phase of his career. His new album "Sky Trails" is the third in three years - and one of his best. Marcel Anders met the gentle rebel in Los Angeles.
TOM PETTY - The Wild One, Forever
Trauertweets and condolences from prominent colleagues without end, worldwide dismay among his fans: With Tom Petty one of the greats left the big stage just three weeks before his sixty-seventh birthday: On the morning of October 2, he was found with cardiac arrest in his house, and on the evening of the same day he died in a clinic in Santa Monica.
EUROPE - The breakthrough after success
It's simply impressive: Europe play in beautiful regularity albums which show Hardrock a future, but which are also very grounded. The Swedish formation creates this by further developing what their role models in the seventies - from Deep Purple to UFO to Thin Lizzy - defined as hard rock. With the new album "Walk The Earth" Europe continues this way consistently.
ST. VINCENT - Court Day
Annie Clark alias St. Vincent is everybody's darling: The 35-year-old US singer/guitarist inspires critics and colleagues alike, celebrates remarkable commercial successes and was even a regular guest in the tabloid press due to her liaison with an English star model. All this she deals with on her album "Masseduction", with which she holds court over her environment and herself. At the same time, a heavy legacy is being inherited: The self-titled predecessor of 2014 was awarded a Grammy. How Annie Clark deals with expectations eclipsed experienced in London.
WORLD RECIPIENT - On the death of Holger Czukay
For about three years now, we have been getting used to the fact that the great stylistic figures of rock and pop are leaving the world stage at ever shorter intervals. Not because they took drugs or perished in excesses, not because they crashed with airplanes or fell victim to violent crimes because of dubious machinations. Not even because they put the barrel of a shotgun in their mouth and pulled the trigger. No, because their days are numbered. And yet, or perhaps for that very reason, it is so shocking when a musician like Holger Czukay, who has brought the world together musically like no other, says goodbye at the age of 79.
ROBERT PLANT - The white comanche
Led Zeppelin are finally passé for 69-year-old Robert Plant. The topic rock music as well. The English singer sees himself as a free spirit, a citizen of the world and a medium. As someone who always wants to remain open to new influences. As a border crosser between cultures and mediator of myths, legends and stories. With his new album "Carry Fire" he pursues a real mission. Of course, he doesn't want to explain them.
MOTORPSYCHO - conversion to Babel
Just one year has passed since their last record, Motorpsycho are already ready with a new (double) album: Inspired by the Tower of Babel, "The Tower" is a fascinating total work of art from cover to lyrics to music. eclipsed spoke with a good-humoured Bent Sæther about the new creative phase of a band that has just repositioned itself in terms of personnel and style.
VAN MORRISON - Stop is not an option
He can't help it. He has to make music. Stagnation would probably actually be death for 72-year-old Van Morrison. He cheats this one over and over again by simply continuing to record records. Since the turn of the millennium alone he has recorded ten new studio albums. Now the ex-theme singer has presented "Roll With The Punches", a mix of cover versions and own material.
TEN YEARS AFTER - History lesson
That Ten Years After would surprise us again with a studio album could not necessarily be assumed. The troupe was already stamped as their own tribute band on a perpetual greatest-hits tour. "Evolution", the weak predecessor, has nine years on its back. However, since guitarist and singer Marcus Bonfanti and bass legend Colin Hodgkinson joined the band in 2014, the mood in the band has changed so much that the Ten Years After veterans Ric Lee and Chick Churchill could no longer say no to a studio stay.
PRIMUS surprise with the setting of the children's book "Rainbow Goblins" and a comeback in the original line-up
Les Claypool, 54, is a funny type: grey goatee beard, straw hat, black clothes, round glasses and an almost philosophical flow of speech. If you didn't know better, you might think you have a painter, writer or university professor in front of you. But the man from San Francisco is a musician. Rock musicians. And what one: Since the mid 80s he is mastermind, frontman and bassist of Primus, has released nine studio albums with the trio and at least as many with various side projects as well as composed the title melody for the cartoon series "South Park". In spite of his enormous popularity, he has not yet experienced the great commercial breakthrough.
RAY WILSON's live album "Time & Distance" offers songs by Genesis and their members in some surprising versions
After Phil Collins left the band in 1996, Ray Wilson was Genesis' lead singer for the rest of the nineties. For the only album of this formation, "Calling All Stations", he wrote three songs. He has refined his songwriting qualities on several solo albums. Since then he has transformed his short membership in the band into a live sounding coin by touring with his own Genesis programs ("Genesis Classic", "Genesis Unplugged"). He also sang for Steve Hackett on his "Genesis Revisited" tour.