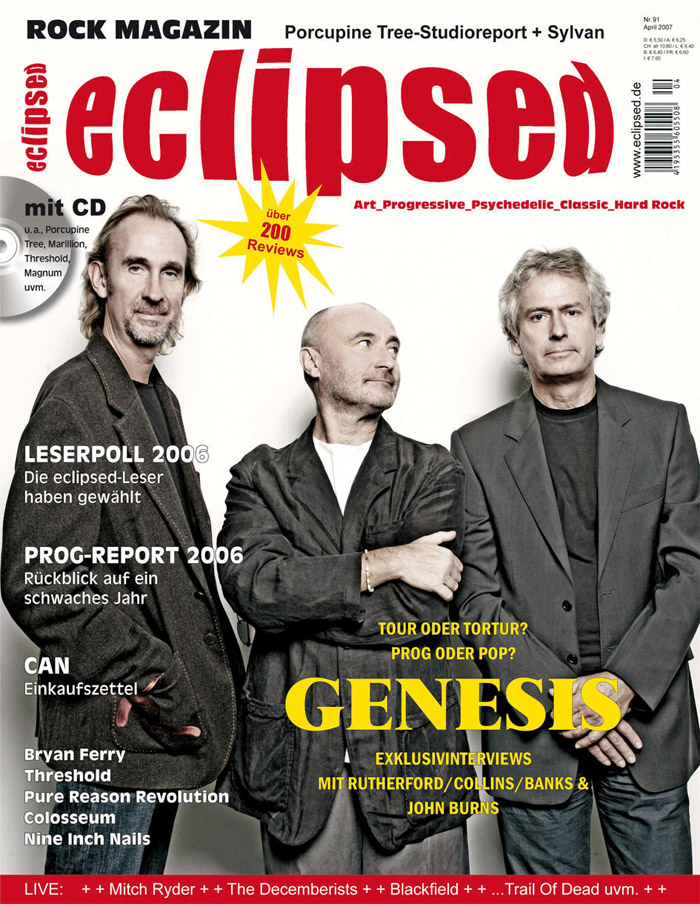 GENESIS
Turn It On Again! - Comeback of the year?
The big reunion fever doesn't stop at Genesis either. In June, the old masters of 70s progressive rock and tasty to tasty 80s pop go on their first tour (with Banks/Rutherford/Collins) in 15 years. Before that, they are still waiting with ambitious re-issues from their opulent back catalogue. eclipsed met the band for an exclusive interview in Utrecht, the Netherlands.
BRYAN FERRY
The Last Dandy
Chic clothes, expensive jet sets and neat playmates - Bryan Ferry lives the cliché of the eternal Stenz like no other. Also musically: On his new album "Dylanesque" he forces St. Bob into the pompous Roxy garb.
REPORT: PROGRESSIVE ROCK
The past Prog year gave hardly cause for exuberant joy. It was a weak year - not only as far as releases were concerned, but also the concerts of the few foreign progressive rock acts that stopped off in Germany in 2006 offered only a few positive things. eclipsed looks back - and dares to take a look at the already promising year 2007.
PURE REASON REVOLUTION
Only dreamed?!
The English magazine "Q" has already described it as the "missing link between Pink Floyd and the 21st century". Postrock, prog, electronics, psychedelic and Britpop in combination with surrealistically colored lyrics characterize the dazzling world of the band, whose singer/bass player Chloe Alper took us on a walk through the evening London by mobile phone and gave us a short insight into the fascinating dream world of PRR.
THRESHOLD
No crash landing in sight
Against the backdrop of a huge panorama window with a picturesque view of Lake Constance, Great Britain's number one progressive metal band presented their new opus in January. It turned out that not only the scenery was right. eclipsed went on a sightseeing flight through the history of Threshold, whose recent development proves to be unexpectedly future-oriented.
COLOSSEUM
Colossal Experts
It's a paradox: Colosseum's continued popularity is ultimately based on four - commercially not very successful - albums released in just two years. But the progressive Jazz-/Bluesrock formation around exceptional drummer Jon Hiseman and saxophone virtuoso Dick Heckstall-Smith has given their fans the imperishable in this short time: a complex music that is experimental and diverse, but always accessible.
30 YEARS BATSCHKAPP
Where Rockladies walk naked along the street during the day
If the term "cult" used inflationarily in this context applies to a music venue, then to the Frankfurt "Batschkapp", which looks back on a 30-year history. 30 years of "Batschkapp", that means "30 years of listening pleasure" (the title of the CD released on this occasion). In the past, its makers circumnavigated the most dangerous cliffs, such as debts or ungracious local politicians, who wanted to kill off the "Kapp". Today, the place is buzzing more than ever.
LESERPOLL 2006: Readers have voted
eclipsed shopping list: CAN
Progmenü without cabbage
There are only a few bands where popularity and influence are so far apart in the course of rock history as with the German Krautprog vehicle CAN. Especially the early recordings of CAN are still a prototype of innovative rock music for countless bands. Examples are groups like Porcupine Tree, Material, Sonic Youth, Stereolab, The Fall or The Orb. However, the broad masses hardly listened to their experimental Grooverock.
ARCADE FIRE
Comical Saints
All paths lead to church with this band: Arcade Fire creative motor Win Butler once studied religious studies, the Septet likes to give concerts in churches, the current album "Neon Bible" was recorded in a church, about 50 minutes by car from Montreal..
ROCKHISTORY: KISS