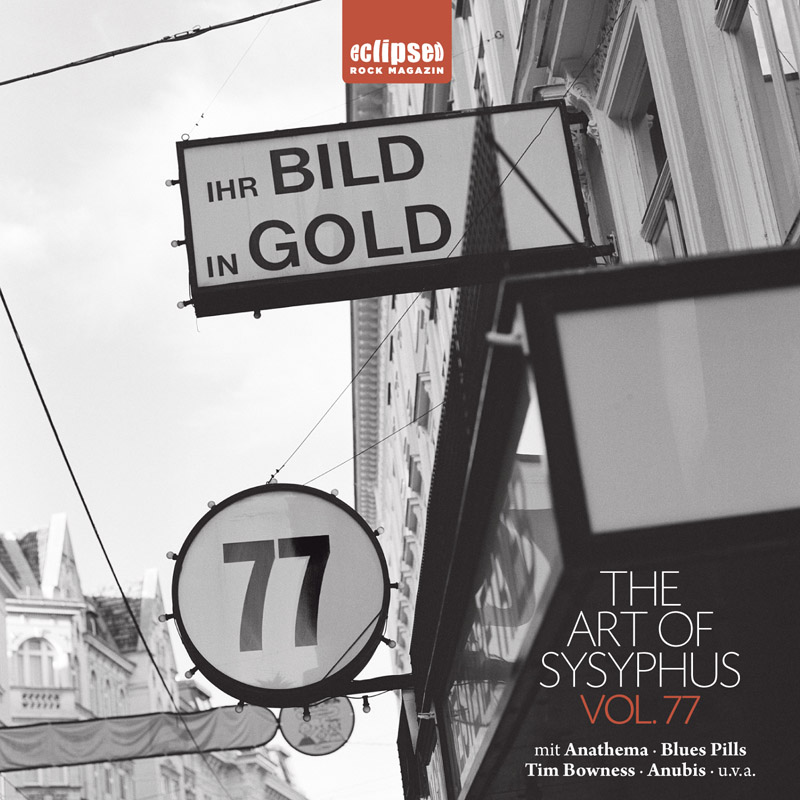 ANATHEMA - The Lost Song Part 3 (5:16)
Album: Distant Satellites (2014)
LABEL/Distribution: KSCOPE/EDEL
WWW.ANATHEMA.WS
On their tenth studio album "Distant Satellites" ANATHEMA filter the essence of their more than 20 year career. The incomparable songwriting chemistry of the three Cavanagh brothers breaks new ground once again in a melancholic drama full of beauty and intensity. Anathema gets under the skin
BLUES PILLS - High Class Woman (edit) (3:42)
Album: Blues Pills (2014)
LABEL/Distribution: NUCLEAR BLAST/WARNER
WWW.BLUESPILLS.COM
All the hymns of praise that could be read about Elin Larsson and her boys are absolutely justified. The young band has charisma and is full of energy. That's bluesy skirt with no blinkers. Deeply rooted in the late sixties, but played as if they had just invented it.
TIM BOWNESS - The Warm-Up Man Forever (4:06)
Album: Abandoned Dancehall Dreams (2014)
LABEL/Distribution: INSIDEOUT/UNIVERSAL
WWW.TIMBOWNESS.CO.UK
No-Man singer TIM BOWNESS uses the Steven Wilson-lose time for his second solo album, which as usual presents his fragile voice and intimate lyrics. But now the Brit is making his music more opulent. She sometimes takes on the large format of Artrock. And that's impressive
ANUBIS - Hitchhiking To Byzantium (9:38)
Album: Hitchhiking To Byzantium (2014)
LABEL/Distribution: BIRD'S ROBE/JUST FOR KICKS
WWW.ANUBISMUSIC.COM
The title track of their third album combines the strengths of the Australian prog rockers. The hymnic main motif remains in the ear for a long time and discharges more and more violently with increasing playing time. High-flying elegiac guitars and a hypnotic piano are constant comforting companions
EPITAPH - Ride The Storm (5:32)
Album: The Acoustic Sessions (2014)
LABEL/Distribution: IN-AKUSTIK
WWW.EPITAPH-BAND.DE
The old German Krautrockers with the twin guitars and English singer/guitarist come to us with Klampfen, percussion, piano and violin, a full-acoustic album. A really positive surprise, because transparency, vibes and performance are at their best. A band reinvents itself in a successful way.
THE LONE CROWS - Dark Clouds (4:57)
Album: Dark Clouds (2014)
LABEL/DIRECTOR: WORLD IN SOUND/ROUGH TRADE
THELONECROWS.BANDCAMP.COM
The band from Minneapolis grooves and swings like the devil. The guitar riffs are always shot cool from the hip. Their slightly psychedelic and blues-like classic rock meanders like a jam. A band you can fall hopelessly for
YASI - Modern World (4:37)
Album: Yasi (2014)
LABEL/Distribution: 36MUSIC/WWW.YASIHOFER.COM
WWW.YASIHOFER.COM
As the female Marcus Deml (Errorhead) they have called some. To be compared with such an expert in your early twenties is already a house number. Without belittling their independence, Steve Vai or Joe Satriani must also be mentioned as sound influences
COLLAPSE UNDER THE EMPIRE - Massif (4:59)
Album: Sacrifice & Isolation (2014) LABEL/Distribution
: FINALTUNES/BROKENSILENCE
WWW.COLLAPSEUNDERTHEEMPIRE.COM
No title would be more suitable to describe this massive instrumental sound structure. "Massif" is also a respectable example of the sound technical possibilities that COLLAPSE UNDER THE EMPIRE also reveal with the second part of their concept, which started with the album "Shoulders & Giants"
ROBERT SCHROEDER - Moments (4:59)
Album: Paradise Edition 2014 (2014)
LABEL/Distribution: WWW.SPHERIC-MUSIC.DE/H'ART
WWW.NEWS-MUSIC.DE
This electronic disc from the early eighties operates massively with the then newly emerging sampler technique as used by a Jean Michel Jarre. Some of it is reminiscent of Eroc, others like the track presented here also have Mike Oldfield-like guitar work to show for it
FUCHS - When You Close Your Eyes (8:13)
Album: The Unity Of Two (2014)
LABEL/DIRECTOR: TEMPUS FUGIT/WWW.TEMPUS-FUGIT.DE
WWW.FACEBOOK.COM/FUCHSLEAVINGHOME
On his second album, multi-instrumentalist Hansi Fuchs tells the story of two people who might have been inspired by Hesse's "Narcissus and Goldmund" in a filigree sound reminiscent of Genesis and Fish. The song presented here reminds of Pink Floyd not only with the string solo.