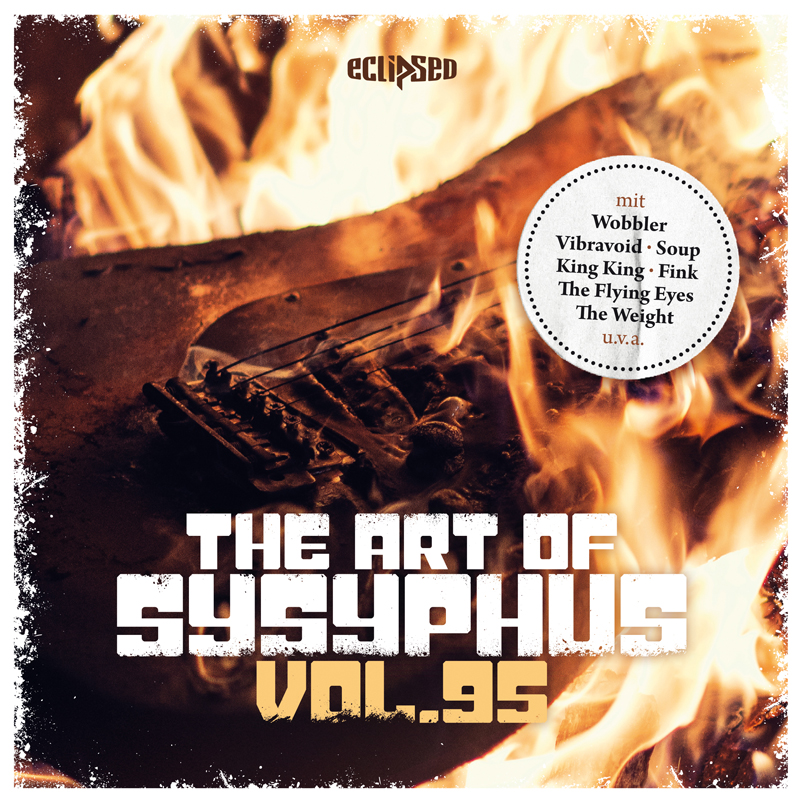 WOBBLER - Fermented Hours (edit) (7:57)
Album: From Silence To Somewhere (2017)
Label/Distribution: Karisma/Soulfood
wobbler.bandcamp.com
For six years the Norwegian Retroproggers have put their fans to the test of patience. But they'll be merciful. The fourth album of the five not only seems more mature despite all the inventiveness, but also reveals a wealth of details thanks to fine production, which clearly underlines the class of the band.
VIBRAVOID - Om Gang Ganpataye Namah (4:38)
Album: Mushroom Mantras (2017) (Release: 17.11.)
Label/Distribution: Stoned Karma/Cargo
www.vibravoid.com
The Düsseldorf psychedelics dig deep into the spiritual flower power box on their latest studio prank and conjure up seven "Mushroom Mantras". A lot of electric sitar, theremin, tablas and mellotron flutes adorn these psychedelically crazy gems as in the sixties-precise "Om Gang Ganpataye Namah".
KING KING - Heed The Warning (4:11)
Album: Exile & Grace (2017)
Label/Distribution: Manhaton/Soulfood
www.kingking.co.uk
Started eight years ago as a blues rock band, the Scots have expanded their stylistic framework with singer and guitarist Alan Nimmo. The second track of the new album is funky and has irresistible hooklines. With such songs you can bring every location from the club to the stadium to the boil.
SINGLE CELLED ORGANISM - The Virus (edit) (4:56)
Album: Splinter In The Eye (2017)
Label/Distribution: Afraid Of Sunlight/Cargo
www.singlecelledorganism.com
If you like concept albums from "I Robot", "The Wall" and "Fear Of A Blank Planet", you've come to the right place. German producer Jens Lueck has created an exciting futuristic "Kaspar Hauser" storyline that is musically outstanding. In terms of sound one likes to be near Steven Wilson like in "The Virus".
SOUP - Sleepers (edit) (11:08)
Album: Remedies (2017)
Label/Distribution: Crispin Glover/Stickman/Soulfood
www.soupband.com
On their sixth studio album SOUP make themselves comfortable somewhere between orchestral epic and open jam atmosphere. "With its groovy middle section, "Sleepers" is a prototype for the latter. Thanks to the bombastic climate the Norwegians open the gate to New Artrock-Heaven.
FINK - This Isn't A Mistake (4:31)
Album: Resurgam (2017)
Label/Distribution: R'COUP'D/Ninja Tune/Rough Trade
www.finkworld.co.uk
Fin Greenall, creative head behind FINK, explains at the beginning how he builds up a song: record a simple vocal part to which he then adds further ingredients, here dark piano swabs, slightly jazzy beats, some saxophone, alienated sounds, which together develop a hypnotic pull.
THE WEIGHT - Trouble (2:46)
Album: The Weight (2017) (Release: 17.11.)
Label/Distribution: Heavy Rhythm & Roll/Rough Trade
www.theweightrock.com
A forgotten hit of a British or US combo of the 1960s? Wrong! The track, characterized by swirling Hammond, passionate vocals and wild guitars, can be found on the current debut of an Austrian band, along with nine other fresh rock creations with blues and psychedelic touches.
THE FLYING EYES - Sing Praise (4:15)
Album: Burning Of The Season (2017)
Label/Distribution: Noisolution/Soulfood
theflyingeyes.bandcamp.com
On their last work "Lowlands" the band from Baltimore allowed for more contemporary influences. Now THE FYLING EYES are returning to their 'old values' on their current album "Burning Of The Season". Already the album opener "Sing Praise" makes himself comfortable with headbanging guarantee between Stoner and Psych-Rock.
KALAMAHARA - Impressure (6:12)
Album: Greener Fields (2017)
Label/Distribution: Sportklub Rotter Damm/Indigo
www.kalamahara.com
A cool album that the Leipzig-Hamburg trio presents with "Greener Fields". KALAMAHARA additionally garnish their stonerrock with creaking riffs and powerful grooves with remarkable instrumental passages. Rest periods and in contrast to it doomiges provide for alternation.
PINGVINORKESTERN - Look, No Hands! (3:57)
Album: Look - No Hands! (2017)
Label/Distribution: Own production/pingvinorkestern.se
www.pingvinorkestern.se
The Swedish "Penguin Orchestra" likes to take traditional music styles with a wink, as this track proves. But the five can also sound as if Art Bears, Frank Zappa and King Crimson have stoned each other to a session. The album is a real grab bag.