On 29 December Marianne Faithfull turned seventy. For the former junkie, who became an elegant dark icon with albums like "Broken English", "Strange Weather" or "Before The Poison", no reason to celebrate. In the sixties, the "mother of all rock chicks" was the first woman next to Nico to celebrate just as wildly as the rock stars with whom she was associated. We visited her in her adopted home Paris for a coffee in the Hotel Costes at the Rue Saint Honoré.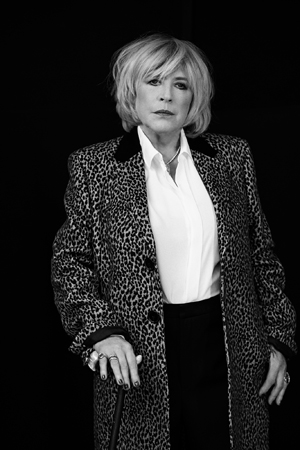 Faithfull uses the conversation on the occasion of her birthday to clear up unpleasant myths and legends. "I lived in Ireland for fifteen years, that was great," she says. "But at some point the island seemed too small for me and I had the feeling that it was time to return to a real metropolis. Which I definitely didn't want to go to London, so I went to Paris. And I love the city. Here I have everything I need, I have friends, I am happy."
A confession that sounds kind of weird out of her mouth. Marianne Faithfull is really not a person who radiates contentment, on the contrary: an old, frail woman with hip disorders and hepatitis C, who is marked by years of systematic self-destruction and has deep furrows in her face, but whose bewitching beauty of once you can still guess. Back in the swinging sixties, Sacher-Moser's native Baroness von Sacher-Moser was a pop star in the art scene, had an affair with Mick Jagger, and sank into a swamp of sex and drugs.
All myths and legends, the Faithfull, which sees itself as a victim of the British press and social double standards, is getting upset: "I was never as wild as everyone believes. Since I've had a computer, I've been reading on the Internet these incredible fantasies people have about me. Although I don't want to destroy their dreams, they're just not true. I've never taken part in any orgies."