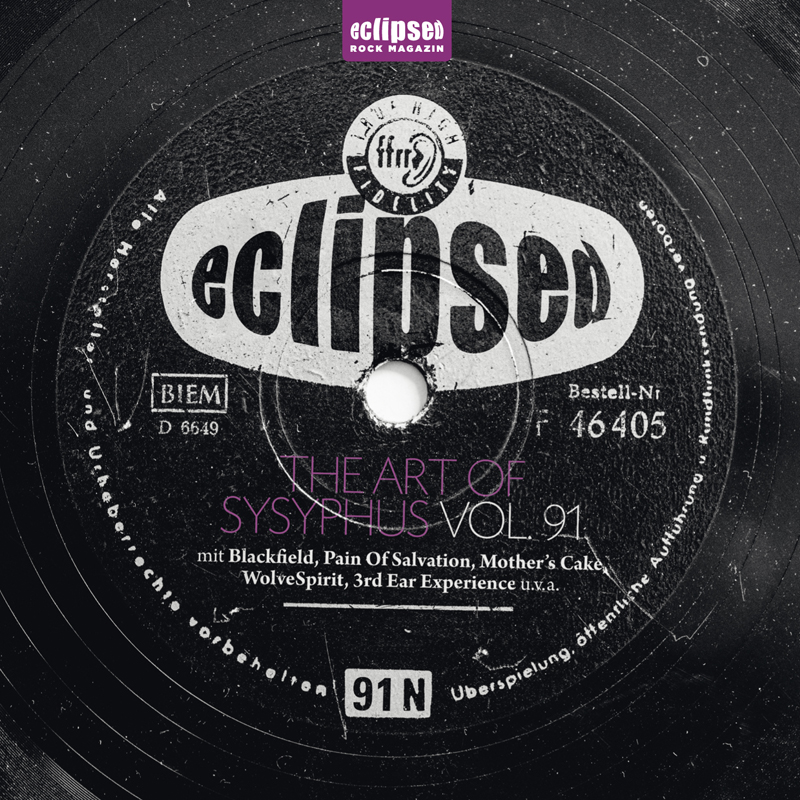 BLACKFIELD - Family Man (3:37)
Album: V (2017) (Release: 10.02.)
Label/Distribution: Kscope/Edel
www.kscopemusic.com/artists/blackfield
Smoldering strings, sinewy guitars, a chorus that seeks its equal, and melodies that seduce and enchant. All this applies not only to the rocky "Family Man" presented here, but to almost all songs on the album. BLACKFIELD's new work is a continuation of their early masterpieces.
PAIN OF SALVATION - Meaningless (4:45)
Album: In The Passing Light Of Day (2017)
Label/distribution: InsideOut/Sony
www.painofsalvation.com
"Meaningless" highlights the compact, catchy side of "In The Passing Light Of Day". The grandiose melody of the chorus (Daniel Gildenlöw once again presents himself enormously versatile!) is already addictive the first time, and even the at first seemingly strange intro sounds echo for a long time. Album of the month!
MOTHER'S CAKE - Now Or Never (4:55)
Album: No Rhyme No Reason (2017)
Label/Distribution: Membran
www.motherscake.com
The three musical Sachertorte specialists from Austria manage the balancing act between blood-hot funk rock à la Mother's Finest, crossover of the Red Hot Chili Peppers brand, young retro rock according to DeWolff as well as progressive sounds towards The Mars Volta. The songmotto "Now or never" fits.
ORANGO - Heirs (4:45)
Album: The Mules Of Nana (2017)
Label/Distribution: Stickman/Soulfood
www.stickman-records.com/band/orango
The Norwegian trio have been below the radar of most classic rockers so far, but their new album was to discover them at the latest. An album on which the atmospheric "Heirs" is not even the strongest track will delight fans from Golden Earring to Stephen Stills.
WOLVESPIRIT - I Want To Love (4:40)
Album: Blue Eyes (Release: 10.02.17)
Label/Distribution: Spirit Stone/Cargo
www.wolvespirit.com
The retro machine was turned on again when the Würzburg band produced their new album "Blue Eyes" in Nashville. The keyboard sounds of Oliver Eberlein are reminiscent of Jon Lord or in atmospheric moments of Rick Wright and contrast with rock tube Debby Craft, who acts more and more self-confident.
MOULETTES - Hidden World (Halicephalobus Mephisto) (4:45)
Album: Preternatural (2017)
Label/Distributor: Craft Pop/Republic Of Music/Rough Trade
www.moulettes.co.uk
A wonderful mix of indie rock, folk and prog from a band whose music is equally influenced by Pentangle and Gentle Giant. The result is a sound you haven't heard before; a mixture of different styles that confuses and enchants the listener at the same time.
T - Chapter Five: Contingencies (Outtake) (6:04)
Album: Epistrophobia (2016)
Label/Distribution: Progressive Promotion/ppr-shop.de
www.t-homeland.de
On his new album, once again soloed, multi-instrumentalist Thomas Thielen once again impresses with clever compositions, sophisticated arrangements and songs that change direction several times, giving the impression of penetrating ever deeper into the listener's consciousness.
ULAN BATOR - Dust (3:24)
Album: Stereolith (2017) (Release: 24.02.)
Label/Distribution: Bureau-B/Indigo
www.ulanbator.biz
Since the beginning of the 90s ULAN BATOR move between the corner coordinates of Krautrock, Industrial-Sounds, Cosmic Psychedelic, Noise-Rock, Electronics and Minimal Music. Also in 2017, the French know how to make their repetitive structures sound strange, strange, warm and groovy. (Review to follow in eclipsed 3/2017)
METAMORPHOSIS - Can An Angel Bring Me Back From Death To Life (Part II) (7:59)
Album: The Turning Point (2016)
Label/Distribution: Black Rabbit
www.jp-metamorphosis.com
The Swiss one-man project has finally become a band. The Pink Floyd bonds are still there, but the slope to the dark side now expresses itself more strongly in metallic sounds towards Steven Wilson. In the song presented here you can indulge in a mega guitar solo. (Review: eclipsed 10/2016)
3RD EAR EXPERIENCE - The Old Woman's Dance (8:02)
Album: Stones Of A Feather (2016)
Label/Distribution: Thousand Thunder/Just For Kicks
www.robbirobb.com/thirdearexperience
3RD EAR EXPERIENCE leader Robbi Robb has written a booklet about jamming and improvising. The new album impressively proves the outstanding abilities his band is capable of in this field. Again and again hypnotic grooves, psychedelic sounds and exotic melodies succeed.