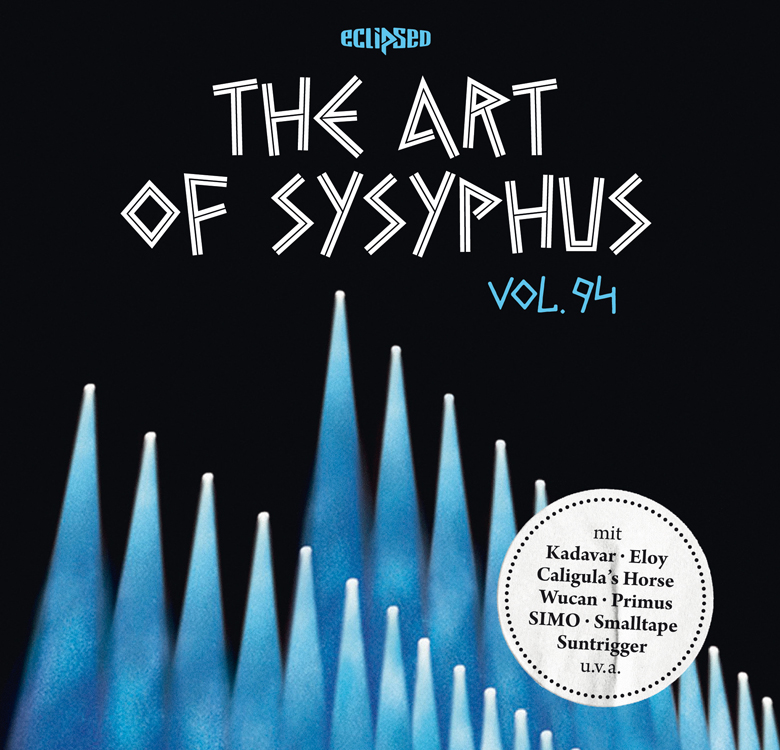 CALIGULA'S HORSE - Song For No One (7:42)
Album: In Contact (2017)
Label/Distribution: InsideOut/Sony
www.caligulashorse.com
The Australian Modern Progger/Progmetaller CALIGULA'S HORSE always have a fine feeling for the respective song, no matter if it is passing the eight-minute limit or presents itself in a compact radio format. Liquid-tracked monumental reefing and goose-bump melodies are guaranteed in any case.
KADAVAR - Die Baby Die (4:17)
Album: Rough Times (2017)
Label/Distribution: Nuclear Blast/Warner
www.kadavar.com
This would be KADAVAR's first single hit. Provided there are still real singles and we would still have 1971. But the song will always be a fan favourite and maybe also the ticket for many who have not yet had the band on the radar. On the album he introduces the turn to more musicality. Album of the month!
SIMO - Shine (3:50)
Album: Rise & Shine (2017)
Label/Distribution: Provogue/Mascot/Rough Trade
www.simo.fm
The half title song is something like the consensus track of the new album, because here the trio combines some of their stylistic excursions from the album of Psychedelic Bluesrock, Soul and Pop on a single track. If you don't like this track, you should avoid SIMO, if you like it, you'll be richly rewarded.
ELOY - Vaucouleurs (4:35)
Album: The Vision, The Sword And The Pyre, Part 1 (2017)
Label/Distribution: Artist Station/Soulfood
www.eloy-legacy.com
ELOY is always looking forward to hearing how they are staging their beguiling sounds from the seventies this time. The new rock opera offers a lot of them, especially those like on "Power And The Passion", as not only the song offered here proves impressively.
WUCAN - The Rat Catcher (5:23)
Album: Reap The Storm (2017)
Label/Distribution: MIG/Indigo
www.wucan-music.de
Two years ago they sowed the wind, now they harvest the storm: The Dresden combo WUCAN combines progressive retro rock with Tull flute, a strong blues foundation, a dynamic hard rock component and lots of herbaceous influences. And singer/bandfounder Francis Tobolsky is a number for herself anyway!
SMALLTAPE - The Sailor's Tale (edit) (6:19)
Album: The Ocean (2017)
Label/Distribution: Smalltape/www.smalltape.net
www.smalltape.net
With his SMALLTAPE project Philipp Nespital not only follows in the footsteps of Steven Wilson, but also integrates jazzy elements into his new art rock sound. The Ocean" also features great vocal arrangements and a cinemascope production. We can look forward to Nespital's future.
SUNTRIGGER - Suntrigger (4:50)
Album: Interstellar (2017)
Label/Distribution: Timezone
www.suntrigger.de
That was practically the starting shot for this band. It all started with this track. With the progressive instrumental rockers from Münster, everyone who can't get enough from My Sleeping Karma to Long Distance Calling should listen more closely. On their debut, it goes even further in width, depth and height.
BUBBLEMATH - Avoid That Eye Candy (3:52)
Album: Edit Peptide (2017)
Label/Distribution: Cuneiform/Broken Silence
www.bubblemath.com
On their second album "Edit Peptide" BUBBLEMATH play themselves with dreamlike certainty through ultra-complex compositions that overflow with original ideas. "Avoid That Eye Candy" thematizes the beauty dictate of advertising in a funny way. Conclusion: "That's the shit you should ignore."
PRIMUS - The Seven (3:08)
Album: The Desaturating Seven (2017)
Label/Distribution: ATO/PIAS/Rough Trade
www.primusville.com
PRIMUS always manages to surpass itself. With a music that always captivates and captivates the listener despite all the unusualness and all the quirks and inconveniences. And that at the highest creative and technical level. The crazy march "The Seven" is just one of many examples.
RAOUL BJÖRKENHEIM TRIAD - Move On (2:40)
Album: Beyond (2017)
Label/Distribution: Eclipse/Galileo MC
www.facebook.com/raoulbjorkenheimtriad
The RAOUL BJÖRKENHEIM TRIAD starts a fearless attack on the auditory canals on "Beyond" and oscillates between Jazz, Free Jazz and Noiserock. "Move On" with its classic groove is the perfect entry-level track and is crowned by Raoul Björkenheim's ecstatic guitar solo. Uncompromising!