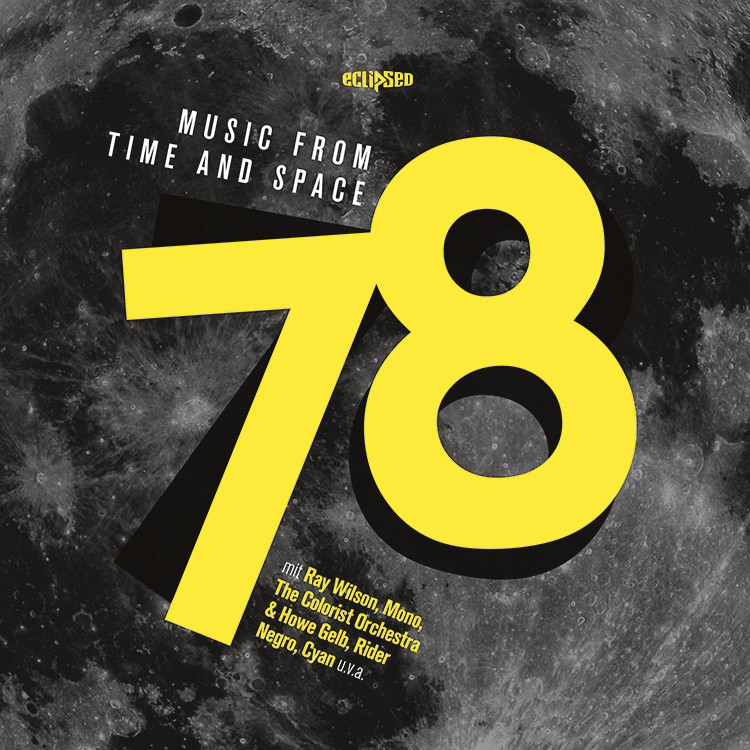 1.RAY WILSON - I, Like You (5:21)
Album: The Weight Of Man (2021)
Label/Distribution: Jaggy D/Soulfood
www.raywilson.net
The Scottish singer/songwriter RAY WILSON works this time even more atmospheric and thus comes quite close to his ex-band Genesis, at least their late phase. Musically, the album is implemented similarly excellent as for example Toto. Also the dramatic ballad "I, Like You" fits into this format.
2.MONO - To See A World (3:51)
Album: Pilgrimage Of The Soul (2021)
Label/Distribution: Pelagic/Cargo
monoofjapan.bandcamp.com
"To See A World" is the shortest and catchiest song on the new work of the Japanese widescreen rockers MONO. Other tracks on "Pilgrimage Of The Soul" are less fast as usual. Nevertheless, the almost four minutes offer a good first impression of the eleventh MONO album.
3.THE JOY FORMIDABLE - Into The Blue (5:11)
Album: Into The Blue (2021)
Label/Distribution: Hassle/Cargo
www.thejoyformidable.com
The Welsh THE JOY FORMIDABLE come along on their fifth album "Into The Blue" with a lively indie rock that has a lot to offer under the surface. Some rather straight forward songs are contrasted by a whole series of varied, melodic songs with unusual sounds.
4. THE COLORIST ORCHESTRA & HOWE GELB - Counting On (4:23)
Album: Not On The Map (2021)
Label/Distribution: Dangerbird/Membran
www.thecoloristorchestra.com
It starts like a Nick Cave & The Bad Seeds song from the nineties. HOWE GELB's grating bass rests on a velvet cushion of violins, marimba, percussion and dripping piano. Where is the martini? Memories of old movies are awakened, nostalgia has rarely been celebrated more beautifully
5.PABLO INFERNAL - Ancient Aliens (5:59)
Album: Mount Angeles (2021)
Label/Distribution: Taxi Gauche Rec./Cargo
www.pabloinfernal.rocks
Born in the Swiss Alps, made for the international stages: PABLO INFERNAL from Zurich are one of the most exciting acts currently in the vintage rock circuit. And "Ancient Aliens" is again one of the most exciting contributions their current album "Mount Angeles" has to offer.
6.RIDER NEGRO - The Wizard: Path To The Core (8:53)
Album: The Echo Of The Desert (2021)
Label/Distribution: Clostridium
ridernegro.bandcamp.com
If you're looking for a musical mix of the Mexican thriller "El Mariachi" and Carlos Castaneda's LSD-drunk Mexico studies, you've come to the right place. The psych-rock trio RIDER NEGRO from Mexico City unfolds its visions like an experimental film about Jim Morrison, who is resurrected in this Doors-heavy music.
7.CYAN - Don't Turn Away (7:41)
Album: For King And Country (2021)
Label/Distribution: Tigermoth/Just For Kicks
www.justforkicks.de

Interesting idea: Robert Reed, together with new fellow musicians, has partly recomposed the 1993 CYAN album, rearranged it and prepared it for the present. "Don't Turn Away" proves the power of this unorthodox re-imagining, which is meant to bring the forgotten masterpiece to a new generation of listeners.
8.WITHOUT US - Reminiscence (8:44)
Album: Aberrations (2021)
Label/Distribution: Without Us
www.withoutus.de
"Reminiscence" is one of the three instrumental numbers on the debut album of the Palatinate-based combo WITHOUT US. Here, an idyllic sounding acoustic guitar introduces the action, before brooding keyboards in the style of early Genesis develop their own dynamics. A fast-paced, gripping prog ballroom dance that immediately sweeps you along.
9.CREAMCHEESE - Chimera (Party Edit) (9:06)
Album: Departure (2020)
Label/Distribution: Clostridium
creamcheese.bandcamp.com
Finally there is a physical release from CREAMCHEESE. After the German one-man-project made various digital releases available on Bandcamp, "Abflug" is the official debut. A collection of guitar psychedelic tracks in the intersection of Krautrock and Pink Floyd.
10.THE FAR CRY - Simple Pleasures (13:21)
Album: If Only (2021)
Label/Distribution: The Far Cry/Just For Kicks
thefarcry1.bandcamp.com

Consisting of American prog veterans, THE FAR CRY offers a skillful blend of classic progressive rock garnished with neoprog elements on their debut album. Especially the long track "Simple Pleasures" inspires due to its complex structure and inspired instrumental work.