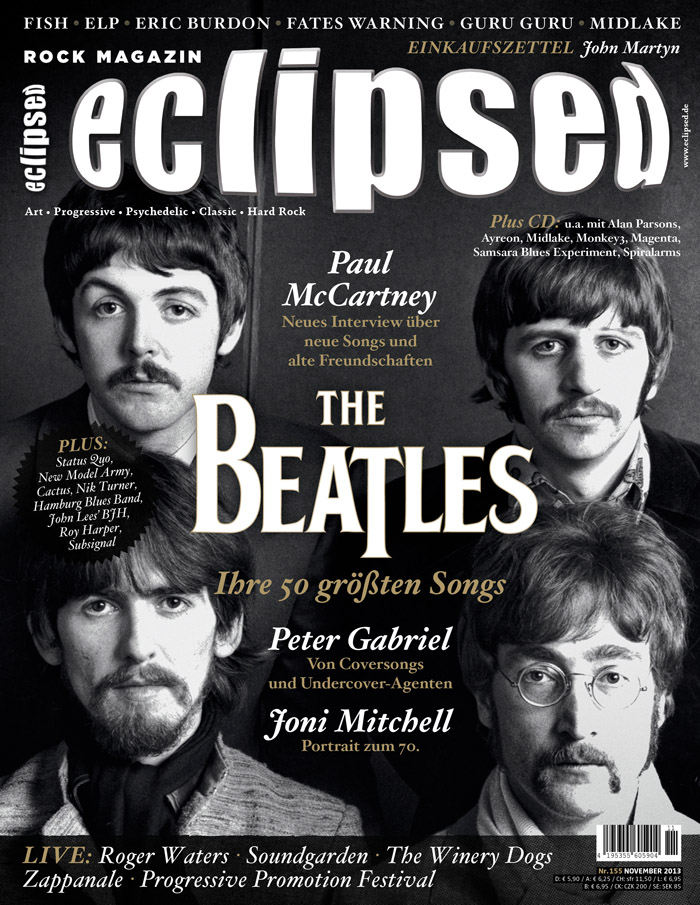 THE BEATLES
your 50 greatest songs
When they released their first albums "Please Please Me" and "With The Beatles" 50 years ago and lostraten the Beatlemania, they were seen by their parents as harbingers of the downfall of the West. But the Fab Four have long been part of Britain's cultural canon, standing in line with William Shakespeare, Benjamin Britten, William Hogarth or Charlie Chaplin. People who don't know a Beatles song are probably in the minority worldwide. The editors have sunk deep into the Beatles' catalogue of works and have compiled a list of the 50 songs that one simply has to know from the greatest pop band of all time.
PAUL MCCARTNEY
You sound younger than ever! Younger than ever!
Not only did he write some of the most famous songs in pop history, he co-composed the soundtrack of the sixties. What other goals can such a musician have? Does he have any targets at all? Paul McCartney doesn't ask questions like that. He just does what he's been doing for half a century: music. And now, at the age of 71, with the help of hip producers, he has even consciously subjected himself to another acoustic rejuvenation, as he told eclipsed in London.
FISH
From toil to labble
It was a difficult birth: After years of delays due to vocal problems, financial bottlenecks and internal band restructuring, Fish finally presents his new studio album. It carries the title "A Feast Of Consequences" and despite all prophecies of doom has become one of the most important recordings in his solo career. We spoke with the singer during a tour stop in the Dutch Zoetermeer.
HAMBURG BLUES BAND
The Gateway to the World
The Hamburg Blues Band is a "gateway to the world" like their place of foundation. Formed thirty years ago, countless musicians from Germany, England and the USA have met here since then to indulge in blues and blues rock. On the occasion of their anniversary, the HBB now releases "Friends For A LIVEtime", a wonderful compilation with live highlights from the thirty band years.
MIDLAKE
The great freedom
For a rock band it's a rare event: the singer gets out in the middle of the track. Usually such an incision means the end. Not for Midlake. A year ago, the folk rock fine spirits from Texas suddenly found themselves without their singer and main songwriter Tim Smith. But the remaining musicians recorded a new album without further ado, with a frontman from their own ranks - and with a powerful energy boost.
JONI MITCHELL
One like no other
During her career she has won eight Grammys, in the late sixties she became the most influential musician of her generation, impressed by her guitar playing, her voice, her style experiments and especially by her way of writing songs. On November 7, Joni Mitchell, who was inducted into the Rock and Roll Hall of Fame in 1996, celebrates her seventieth birthday. We pause briefly and recall Mitchell's time in the seventies, the most important phase in the career of the exceptional Canadian artist, who silenced as a musician in 2007.
GURU GURU
The Anarchoclown
Krautrock has produced a whole series of striking, bizarre figures. One of his most characteristic and dazzling is Mani Neumeier, gifted drummer and boss of Guru Guru. For 45 years he has been delivering rock music with his band, which perceives genre boundaries only as markers. eclipsed spoke with the 72-year-old Munich-born about past and present. About Hendrix, Karl Valentin and the fun of Freud'.
CACTUS
Desert Sons with Wumms!
Cactus were one of the first hard rock formations in the USA. Creem Magazine even stamped them "The American Led Zeppelin." Since their comeback in 2006, the 70s troupe has once again presented their typical heavy blues rock. Most recently at her performance at the Burg-Herberg-Festival.
FATES WARNING
In the dark is good sparkle
On Darkness In A Different Light, Fates Warning returns to its former strength. The electronics experiments of the last two publications have been forgotten. Instead the guitars and Ray Alder's impressive voice are in the foreground again. Many fans had hardly dared to hope that a new studio work of the quintet would be released.
PETER GABRIEL
From scratch brushes and back flatterers
Peter Gabriel has just finished the "Back To Frount" tour, where he presented the songs of his successful album "So" to his fans once again. Since 2010, the Brit, who is notorious for his usually slow pace of work, has released three albums on which he covers both his own and others' songs as well as his own covers. However, his trailers have been waiting for new material for eleven years now. In a detailed interview, the unconventional musician reflects on priorities and sensitivities in his current life situation.
Keep the text up! Cult songs and their meaning
PLACEBO - EVERY YOU EVERY ME
The world of Brian Molko is a world full of excesses: excessive sexuality (which he likes to live out with both women and men) as well as rushing party nights full of alcohol and drugs. But the singer of the trio Placebo, active since 1996, not only describes the fun of excessive celebrations in "Every You Every Me", but also the day after: Doubt, loneliness, emptiness, self-loathing.
Shopping list JOHN MARTYN
Well Kept Secret
Throughout his life John Martyn was a well-kept secret for the general public. The Englishman with Scottish roots has always sought commercial success, but at the same time has done everything he could to stand in his way. So he was a notorious drinker and drug freak. He was close friends with Nick Drake, Phil Collins and Lee "Scratch" Perry; Eric Clapton covered one of his songs: He stayed under the radar...