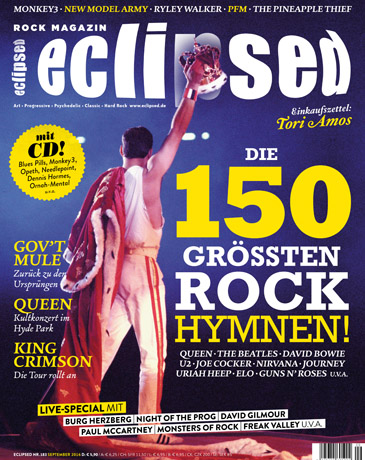 The eclipsed check - The 150 greatest rock anthems of all time

Stomping, combative, polemic, ecstatic - rock anthems can present themselves in this way and in completely different forms of mood. In any case, they have always stood for the great emotional theatre in popular music. The eclipsed editorial team has brought together the 150 most exciting representatives of the hymn-like song from six decades and allowed showers to trickle down their backs several times. Welcome to the stage of larger-than-life gestures!

40 years ago: QUEEN in Hyde Park - Coronation in the Park

Of the millions of concerts rock has experienced, some have made it to the rank of a historic event. One of these was on 18 September 1976, when Queen estimated that 200,000 people were lured to a free concert in London's Hyde Park. In the history of Freddie Mercury & Co., the day marks the final breakthrough. Nevertheless the Megasause rock fans are not so present here anymore. We remember that funny day in the park.

RYLEY WALKER - New impulses!

Chicago has always been a good place for experimental spirits in music. This once started with Sun Ra and still leads to unconventional projects like Tortoise or Wilco. The young Chicago singer-songwriter Ryley Walker, who with his new CD "Golden Sings That Have Been Sung" has created a direct link between Tim Buckley and Alice Coltrane, is certainly not the end point of this development.

KING CRIMSON - I'm A Dinosaur

For some it's a gift no longer considered possible, others never suspected anything else: King Crimson are back. And bigger than ever - as a seven-piece formation they will travel Europe in autumn and rock their way through their massive Opera Omnia. Robert Fripp, Spiritus Rector of the Prog-Adventurers, is silent to the whole thing. Not so his comrades Jakko Jaszyk, Mel Collins and Tony Levin.

MONKEY3 - Don't talk, play

Monkey3 belong without doubt to the crème de la crème of the international stoner rock scene. The way in which the sum of power grooves, extra-worldly keyboard surfaces, violent riffs and famous melodies becomes much more than its components is unparalleled. The new album "Astra Symmetry" adds further facets to the style of the Lausanne quartet. Explanation attempts for this phenomenon.

NEW MODEL ARMY - Winter is approaching

Two years after the "Between Dog And Wolf", dressed in a new sound garment, New Model Army remember their punk past on their new studio album. "Winter" is an impetuous commentary on the state of the world. In an interview with eclipsed it quickly becomes clear: Justin Sullivan is very angry. It is the Brexit who thoroughly spoils the mood of the frontman of the English band.

GOV'T MULE - Die Entstehung des Lebens

Not too many bands take the chance to document their discovery phase. Gov't Mule did this in 1994 with wise foresight. 22 years later the embryonic recordings of the Progressive Blues formation are now made available to the public under the title "Tel-Star Sessions".

72 and not a bit quiet - JEFF BECK waits with a powerpack of album, autobiography and tour for which

Laus Geoffrey Arnold Beck has run over his liver, nobody knows. The fact is that the old master released "Loud Hailer" in mid-July, his first studio album in six years, and received euphoric reviews. But he doesn't want to talk about it. And he only wants to present it live in the USA, where he has been touring with Buddy Guy since the beginning of August - in casinos, provincial nests and monumental venues like the Hollywood Bowl.

More than just music - DREAM THE ELECTRIC SLEEP take their educational mission seriously

Strong women, struggle and social disruptions have always been the focus of Matt Page's lyrics. While the debut "Lost And Gone Forever" (2011) was based on the Oscar-winning documentary "Harlan Country, USA" about a miners' strike in Kentucky in 1976 (Page also told the story of his grandparents here), the singer/guitarist on his successor "Heretics" (2014) was mainly concerned with the suffragettes movement at the beginning of the 20th century, which finally led to the implementation of women's suffrage in the USA and Great Britain.

No more of that! - MICHAEL KIWANUKA takes a stand with his new CD

The British soul singer and guitarist Michael Kiwanuka lets himself fall back deep into the late sixties with his second CD "Love & Hate". However, the topics he takes up in the process are highly topical. Seldom has timelessness been so focused and explosive as on this CD of a 29-year-old who exclaims: "Stop with no matter" and intervenes again. Between the pegs Pink Floyd and Marvin Gaye he ignites a firework of emotional drama.