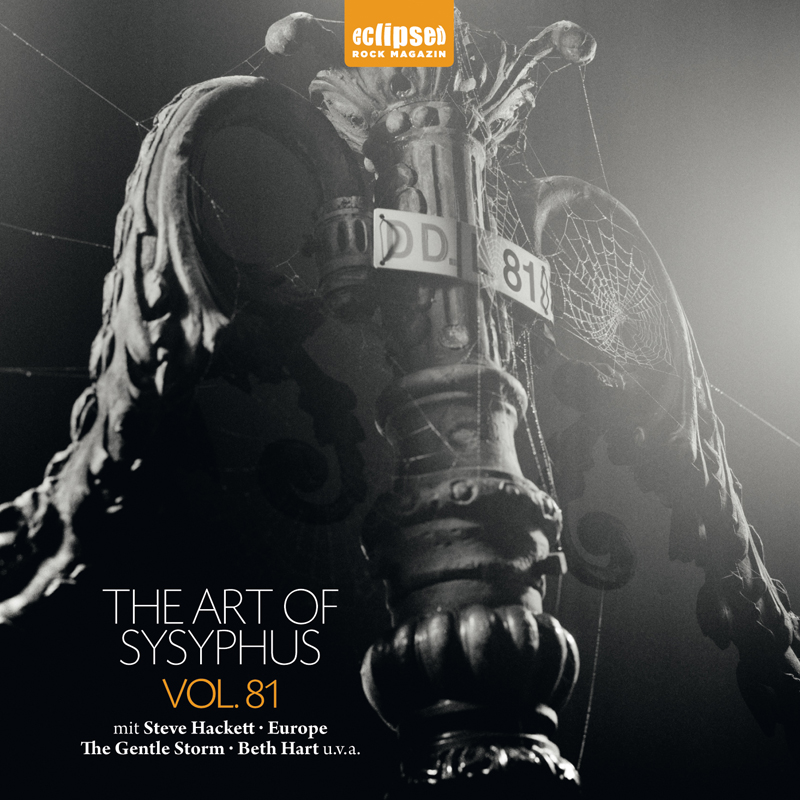 STEVE HACKETT - The Wheel's Turning (7:23)
Album: Wolflight (2015)
Label/Distribution: InsideOut/Universal
www.hackettsongs.com
Once again the master guitarist and composer takes us on an eventful journey through different countries and epochs, which will not be forgotten so quickly. It is almost a miracle that the former Genesis string acrobat never copies himself and yet always remains himself.
EUROPE - War Of Kings (Radio edit) (4:00)
Album: War Of Kings (2015)
Label/Distribution: UDR/Warner
www.europetheband.com
They started the "Final Countdown" already in the first part of their career, if they would say goodbye suddenly, one thing would be certain: With "War Of Kings" EUROPE have created a melodic hardrock classic. A dreamlike album, where even hard boiled experts can't spit. (Review: eclipsed 3/2015)
THE GENTLE STORM - The Heart Of Amsterdam (Storm version) (6:37)
Album: The Diary (2CD) (2015)
Label/Distribution: InsideOut/Universal
www.arjenlucassen.com
Together with Anneke van Giersbergen (ex-The Gathering) Arjen Lucassen (Ayreon) dares a journey into the golden age of Holland in the 17th century on the concept album "The Diary". An epic concept double album where classic, metal and acoustic folk music merge into a love story.
BETH HART - Mechanical Heart (4:13)
Album: Better Than Home (2015)
Label/Distribution: Provogue/Mascot/Rough Trade
www.bethhart.com
The collaboration with Joe Bonamassa has enlivened both her and the New York guitarist. Those who feared after BETH HART's last solo album that she would now only remain true to the soulful blues rock genre can breathe a sigh of relief. The new album is stylistically much more diverse. (RELEASE: 10.04.)
DROPSHARD - Insight (4:59)
Album: Silk (2015)
Label/Distribution: Dropshard/Just For Kicks
www.dropshard.net
In their longtracks Dropshard trace the spirit of Genesis and King Crimson incl. flutes and vocoder vocals, but also the atmospheric sides of Riverside and Anathema can be found. The convincing vocal performance of Enrico Scanu also clearly lifts "Silk" above the prog average.
SPECIAL PROVIDENCE - Kiss From A Glacier (4:37)
Album: Essence Of Change (2015)
Label/Distribution: GEP/Soulfood
speacialprovidence.eu
The Fusionprog surprise of the month comes from Hungary. SPECIAL PROVIDENCE have been around since 2004, but they have never bundled their skills as well as on "Essence Of Change". Here we do some fiddling, but with concept - so that pieces like "Kiss From A Glacier" gain additional suspense.
THE AUGUST - Ebbing Well (3:23)
Album: Lizard King (2014)
Label/Distribution: Midsummer/Cargo
www.theaugust.de
The debut of THE AUGUST from Aschaffenburg hasn't become as rough and brash as the track "Ebbing Well". Surely the students develop a lot of power in their Wall Of Sound, drive forward with licks and grooves, but also scatter a lot of melodic indie passages. (Review: eclipsed 9/2014)
BLACK RAINBOWS - Wolf Eyes (3:51)
Album: Hawkdope (2015)
Label/Distribution: Heavy Psych/Cargo
www.theblackrainbows.com
The Italian Stoner/Space Rock trio is known for hard work and durability. But on their new album they show more than serene, catchy retro power. Hymn-like and epic moods show a clear quality leap in songwriting. Pressure and melody enter into a moving symbiosis.
PAPASLIDE - Vooing You (3:44)
Album: The Deepest Pain (2015)
Label/Distribution: String Commander/MIG/SPV
www.mig-music.de
Scandinavia rules! Now even the bluesy side of Rock is no longer safe from these northern lights. Papaslide around slide virtuoso Rune Nordvik from Norway prove on their third album that you can hardly get past this troupe with their Johnny winter-influenced blues rock.
LAMBERT - Stairs (edit) (4:45)
Album: Drachenreise (2015)
Label/Distribution: Spheric/H'Art
www.sphericmusic.de
The boss of the Spheric-Music-Label (label and mailorder for electronic music) took his time with a new solo album. Berlin school, floy guitar and unexpected percussion playing on the djembe go together harmoniously. A flight above the clouds into distant fantasy worlds. (Review: eclipsed 3/2015)