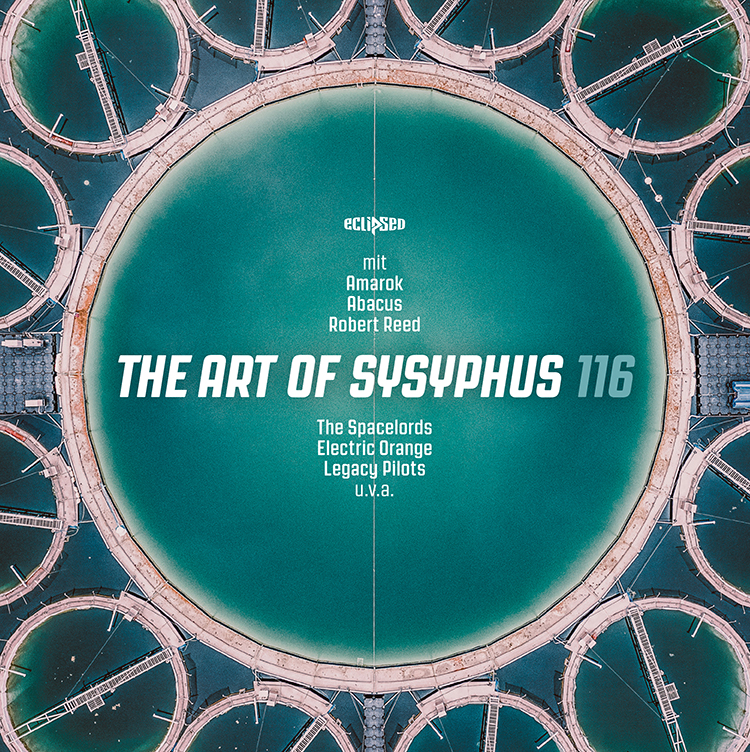 1.AMAROK - Surreal (4:59)
Album: Hero (2021)
Label/Distribution: OSKAR
amarokmusic.bandcamp.com
With their new work, AMAROK fill the sound gap left by their compatriots Riverside. Less rocky and proggy than the aforementioned, but with an individual feeling for wonderful melodies, enchanting moods and modern electronic sound additions. "Surreal" is an example of this.
2.ABACUS - Now You're Gone (5:57)
Album: Highland Warrior (2021)
Label/Distribution: MIG/375 Media
www.abacus-studio.de
ABACUS, the cult band from early Krautrock days, presents an opus about the first Scottish king Robert The Bruce. The musical range goes from Deep Purple to Clannad, from anthemic melodic rock to Celtic corner. Magnum were godfathers on the raucously bombastic "Now You're Gone." A surprising balancing act!
3.THE SPACELORDS - F.K.B.D.F. (8:09)
Album: Unknown Species (2021)
Label/Distribution: Tonzonen/Soulfood
https://thespacelords.de
Three longtracks, three times endless Psych'n'Space. THE SPACELORDS do what they do best. They go on a trip where drums, guitar and bass are enough to overcome gravity and let the consciousness do somersaults. eclipsed wishes a pleasant flight.
4.GLASGOW COMA SCALE - Underskin (8:05)
Album: Sirens (2021)
Label/Distribution: Tonzonen/Soulfood
www.glasgowcomascale.de
With their debut album "Enter Oblivion", the Kowalski brothers Piotr and Marek manifested themselves in the all-encompassing New Artrock/Wall-Of-Sound firmament. Five years later GLASGOW COMA SCALE surpass this level, reach the next level, the track "Underskin" underlines this impressively.
5.LEGACY PILOTS - Ghosts Of The Ocean (4:57)
Album: The Penrose Triangle (2021)
Label/Distribution: Klangwerk/Just For Kicks
www.legacypilots.com
After "Aviator" the Hamburg musician Frank Us has gathered top musicians of the prog scene for the third time, among others Pete Trewavas, John Mitchell, Steve Rothery. Not virtuosity as an end in itself, but crisp songs between AOR and Prog-Longtrack are in the center. Quasi Toto in prog format, as this track also shows
6.ROBERT REED - A Dream Of Home (4:10)
Album: The Ringmaster: Part One (2021)
Label/Distribution: Tigermoth/Just For Kicks
robertreed.bandcamp.com
The indefatigable ROBERT REED presents part 1 of a conceptual work about creativity, and all in "Sanctuary"/Mike Oldfield mode. There you think, the old bell master has risen to new feats. Music somewhere between "Ommadawn" and "QE2". If you don't believe it, please listen to "A Dream Of Home".
7.VAPORS OF MORPHINE - No Sleep (4:59)
Album: Fear & Fantasy (2021)
Label/Distribution: Schnitzel/Indigo
www.vaporsofmorphine.com
On the rubble of the legendary Morphine, great things are born: VAPORS OF MORPHINE. Carried by Dana Colley's baritone sax, a jazz-noir ballad winds its way through the sewers of our auditory canals, spilling out halfway through the song into an ocean of guitar soloing over which a saxophone tornado rages
8.POLIVERSO - Lethargy (7:53)
Album: Sunbound (EP) (2021)
Label/Distribution: Poliverso
www.poliverso.de
An EP in (almost) album length (33 minutes)! The debut of the Dresden-based four-piece POLIVERSO impresses with its joy of playing, good-humoured cross-references and four tracks, which reveal four different states of being of the group. With "Lethargy" they indulge in 70's hard rock and even belt out a proggy keyboard solo.
9.ELECTRIC ORANGE - Phenomenon (5:58)
Album: Psi-Hybrid (2021)
Label/Distribution: Studio Fleisch
www.electric-orange.com

The Aachen neo-krautrockers succeed in another big hit shortly before completing their 30th anniversary of service. On "Psi-Hybrid" ELECTRIC ORANGE combine their very own sound with new sounds. New and old enter into a groovy, melodic, weird, as funny as subtle symbiosis.