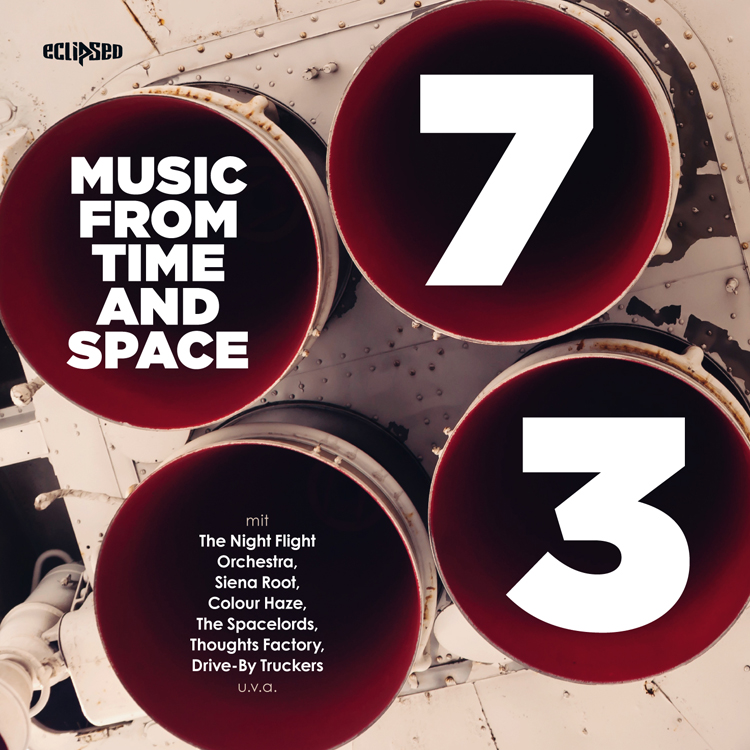 1. THE NIGHT FLIGHT ORCHESTRA - Transmissions (5:45) Album
: Aeromantic (2020) Label/Distribution
: Nuclear Blast/Warnerwww.facebook.com/thenightflightorchestraofficial
The Swedish AOR heroes THE NIGHT FLIGHT ORCHESTRA ignite a real melodic firework on their fifth album "Aeromantic". Here every song is a hit, and you feel reminded of Toto, Survivor or David Foster. On "Transmissions" the band invites you to dance on the dance floor with disco basses.
2. DRIVE-BY TRUCKERS - Grievance Merchants (4:08) Album
: The Unraveling (2020) Label/Distribution
: ATO/PIAS/Rough Trade
www.drivebytruckers.com
The USA is not doing well, contrary to what its president says. The fatal mixture of a feeling of superiority of white racists (theme of the track), lax gun laws and social injustice is presented by the DRIVE-BY TRUCKERS in clear words, but packed in pleasant Americana sounds.
3. SIENA ROOT - Organic Intelligence (3:33) Album
: The Secret Of Our Time (2020) (Release: 20.03.) Label/Distribution
: MIG/Indigowww.sienaroot.com
In the Swedish retro-rockers SIENA ROOT, two powerful singing ladies share the microphone. Stylistically they move more towards flower power and blues, approaching genre mates like the Blues Pills and Pristine. "Organic Intelligence" is an appeal to human reason.
4. COLOUR HAZE - Material Drive (3:32) Album
: We Are (2020) Label/Distribution
: Elektrohasch/Sonic Rendezvouswww.colourhaze.de
Certainly, COLOUR HAZE are first class stoner rock. But just like on the previous albums, the Munich band on "We Are" skilfully put out their feelers into new dimensions, breaking new ground. In between the sometimes hard, sometimes soft guitar riffs and guitar licks it becomes trippy and almost sky-high cheering
5. JONATHAN HULTÉN - The Mountain (3:56) Album
: Chants From Another Place (2020) Label/Distribution
: Kscope/Edelwww.jdhulten.com
Parallels to Nick Drake cannot be denied when JONATHAN HULTÉN plucks folk guitar in "The Mountain" and weaves rapturous harmonies. The name of his solo debut "Chants From Another Place" is program: the Swede's intimate mini chorales seem to blow over from another dimension. Album of the month!
6. THE LEGENDARY FLOWER PUNK - Prince Mojito (8:59) Album
: Wabi Wu (2020) Label/Distribution
: Tonzonen/Soulfoodwww.thelegendaryflowerpunk.bandcamp.com
A constantly surprising mixture of space rock, psychedelic, noise, funk, jazz and kraut rock, with changing arrangements and styles. THE LEGENDARY FLOWER PUNK from St. Petersburg can't be defined at all and yet they still manage to sound like a psychedelic cast.
7. THE ALMOST THREE - The Whale (4:50) album
: It's Just Music (2020) Label/Distribution
: POTTpeoplewww.pottpeople.ruhr
THE ALMOST THREE, the Ruhrpott power trio around Birth Control guitarist Martin Ettrich, convinces with crisp funk and blues rock à la Jimi Hendrix, Jeff Beck or Mother's Finest. So "The Whale" does not turn out to be a soft eco-song, but is musical dynamite, even if you try to understand whales. (Review: eclipsed 02/2020)
8. THE SPACELORDS - Mrs. Kuhnkes Kosmos (11:42) Album
: Spaceflowers (2020) Label/Distribution
: Tonzonen/Soulfoodwww.and-the-world-is-next.de/spacelords
THE SPACELORDS' 24/11/13-minute trips are ideal for exploring the boundless - and above all, infinity. They are colourful, the "Spaceflowers", a "Cosmic Trip" really can't last long enough, and "Frau Kuhnke's Cosmos" is far from bourgeois home cooking
9. DELEYAMAN - Keep The Light (5:18) Album
: Sentinel (2020) Label/Distribution
: TTO/Broken Silencewww.deleyaman.com
Dark, atmospheric tones, embedded in a melancholic, but at the same time cozy atmosphere: Welcome to the world of the French band DELEYAMAN, who on their album "Sentinel" play in the spirit of Leonard Cohen and Serge Gainsbourg and combine chanson, world music and pop in a congenial way
10. THOUGHTS FACTORY - Dawn Pt. 1 (8:13) Album
: Elements (2020) Label/Distribution
: Melodic Revolution
www.thoughtsfactory.com
"Dawn Pt. 1", one of the central songs on "Elements", is equipped with a strong suspense. Here the Frankfurt prog metallers THOUGHTS FACTORY let symphonic bombast, strong riffs, great melodies and jazzy solo parts dance. Which not only once reminds of former dream theater glamour.