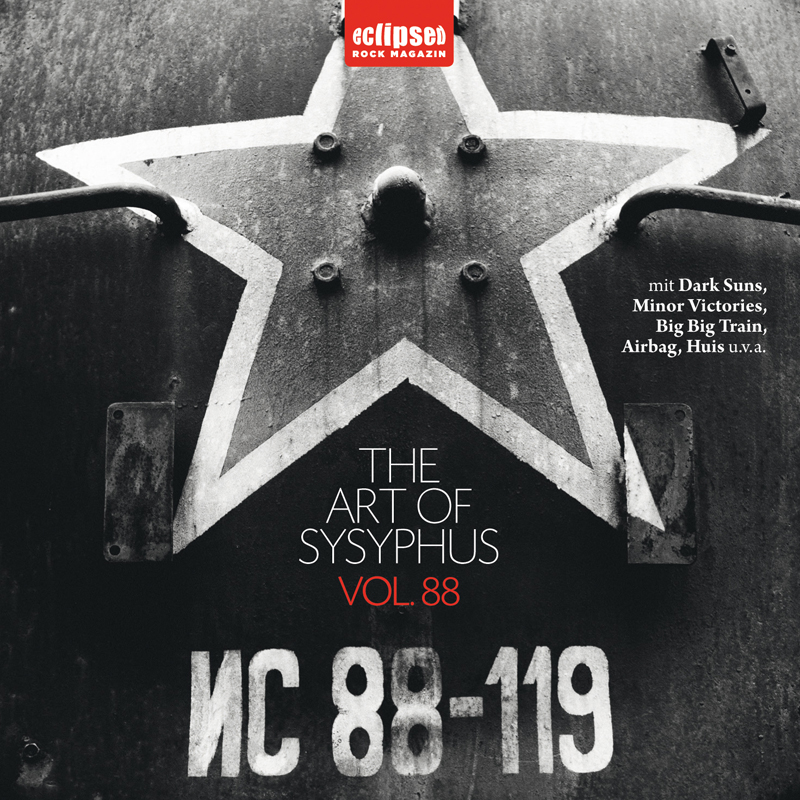 DARK SUNS - Escape With The Sun (6:12)
Album: Everchild (2016)
Label/Distribution: Prophecy/Soulfood
www.darksuns.de
At DARK SUNS you can expect exciting course changes at any time. On their fifth album "Everchild" the octet not only firmly integrates two wind instruments into the line-up, the melancholic retro-prog Phoenix of "Orange" (2011) the Leipzig-based band has now also grown jazz-decorated new art rock grand pianos. Album of the month!
MINOR VICTORIES - Scattered Ashes (Song For Richard) (4:16)
Album: Minor Victories (2016)
Label/Distribution: PIAS/Rough Trade
minor-victories.com

A leap into the rearview mirror of the 80s. A voice from distant galaxies rising above a deep sound swamp, somewhere between Shoegaze and Darkwave. Proximity that arises from distance, the present that is born from the past, and at the same time the memory of a future that is no longer distant.
AIRBAG - Sleepwalker (6:59)
Album: Disconnected (2016)
Label/Distribution: Karisma/Soulfood
www.airbagsound.com
"Sleepwalker" offers everything that makes up the new, fourth album of the Norwegian art rockers and what AIRBAG has always distinguished: cultivated art rock, in which songwriting, discreet keyboard work and Gilmour-like guitar solos intertwine, complement each other and form a complete work as if from a single mould.
BIG BIG TRAIN - Folklore (7:26)
Album: Folklore (2016)
Label/Distribution: English Electric/Just For Kicks
www.bigbigtrain.com
Draining organ, harmonic guitar playing, in addition a singer with an original voice á la Peter Gabriel - an impressive progrock track is ready. "Folklore" is the title song and opening track of the new Big Big Train album of the same name. A magnificent entry into the colourful world of the British quintet.
HUIS - The Man On The Hill (7:32)
Album: Neither In Heaven (2016)
Label/Distribution: Unicorn Digital/Just For Kicks
www.huisband.com
Neoprog with hard bandages - HUIS have found their style! Crunchy hardness and symphonic bombast à la Arena dominate the second studio album of the Canadians. "The Man On The Hill" is perhaps the hardest song on the album - the "duel" between keyboards and guitars ends up undecided.
CRYSTAL PALACE - All Of This (5:41)
Album: Dawn Of Eternity (2016)
Label/Distribution: Gentle Art Of Music/Soulfood
www.crystalpalacemusic.de
"All Of This" is a crisp song, which has the format of a catchy tune and definitely has hit potential. The electronic gimmicks at the beginning, with the guitar that starts then, inspire again and again on the new. The singing is threatening, which adds dramaturgy to the song, before a guitar solo completes the piece.
JEFF ANGELL'S STATICLAND - Band-Aid On A Bullet Hole (4:59)
Album: Jeff Angell's Staticland (2016)
Label/Distribution: UDR/ADA/Warner
www.staticland.com
With his new project Walking Papers frontman Jeff Angell rages his way through Blues, Desert and Stoner Rock. Multifaceted singing and concise riffing make up this interplay of subtle melancholy. Drifting tracks are proffered just as intensively as balladesque approaches.
PETER BAUMANN - Searching In Vain (edit) (4:28)
Album: Machines Of Desire (2016)
Label/Distribution: Bureau B/Indigo
www.bureau-b.de/peterbaumann.php
A big surprise! The ex-Tangerine Dream musician, who belonged to the classical formation, is back. The brand-new album doesn't make the mistake of simply bathing in nostalgia, yet in "Searching In Vain", for example, you get the typical shimmering sequencer work served up that distinguished his former band so exemplarily.
PETTER CARLSEN - You Go Bird (3:54)
Album: You Go Bird (2016)
Label/Distribution: Function/Cargo
www.pettercarlsen.com
Re-release of the wonderfully melancholic debut of the Norwegian singer-songwriter, who has meanwhile attracted attention through collaborations with Long Distance Calling and Anneke von Giersbergen. The title song is dreamlike beautiful songwriter pop, sung with a touching, engaging voice.
KARIBOV - E.G.O. (11:24)
Album: Holophinium (2CD) (2016)
Label/Distribution: Progressive Promotion/www.ppr-shop.de
www.karibow.de
The project KARIBOW around the singer and multi-instrumentalist Oliver Rüsing offers on "Holophinium" perfectly produced Melodic Prog of international format. The diversified longtrack "E.G.O." contains many nice hooklines and is rounded off after eight and a half minutes by an epic ending.