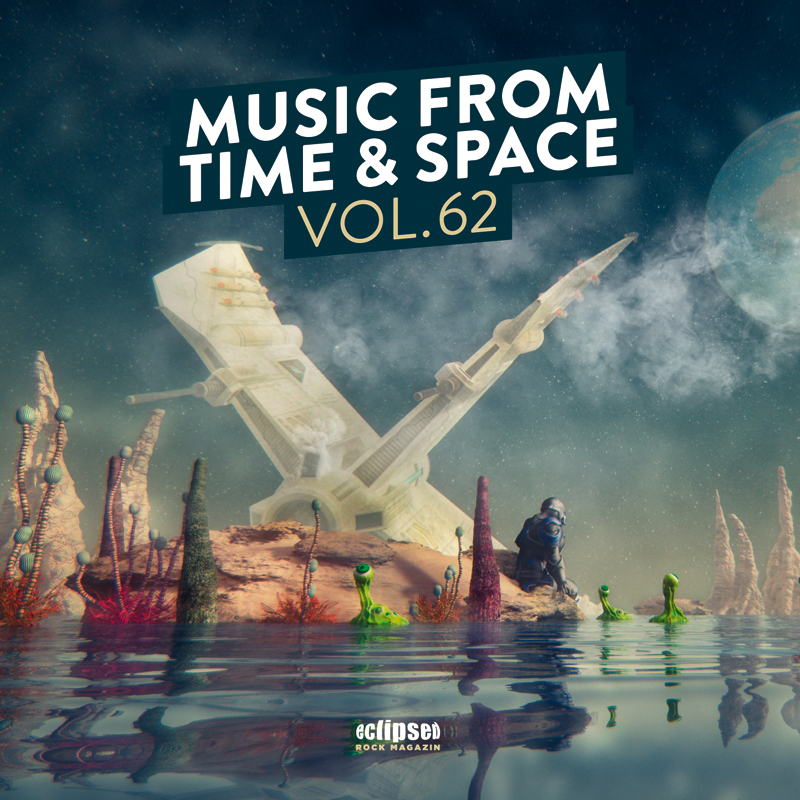 MARILLION - The New Kings (IV): Why Is Nothing Ever True? (3:10)
Album: FEAR - Fuck Everyone And Run (2016)
Label/Distribution: earMUSIC/Edel
www.marillion.com
Politics and prog united in emotionally stirring, wonderfully arranged longtracks - the new album of the British prog legend has it all. Marillion take a clear stand against the steadily growing, unholy power of capital and wrap their "Protestalbum" (Steve Hogarth) in graceful, experimental, stirring songs.
VOLA - Stray The Skies (4:11)
Album: Inmazes (2016)
Label/Distribution: (Mascot/Rough Trade)
www.volaband.com
Horizonless synthie carpets and hugejent-riffs mark the extremes between which the Danes Vola position themselves on their debut "Inmazes". But above all the wonderful vocal melodies are addictive. The bombastic noble chorus in "Stray The Skies", for example, is simply great cinema.
WOVENHAND - Crook And Flail (4:29)
Album: Star Treatment (2016)
Label/Distribution: Glitterhouse/Indigo
www.wovenhandband.com
The most famous wandering preacher of the rock scene speaks again with "Star Treatment", and David Eugene Edwards has lost nothing of his urgency and his sometimes frightening intensity. As "Crook And Flail" proves, the album has perhaps become even more demanding than its predecessors.
SHAMALL - Linolenic Acid (5:59)
Album: History Book (2016)
Label/Distribution: 2L Productions/shamall.com
www.shamall.com
Norbert Krüler alias SHAMALL presents a big 5CD show, which documents his works between Prog, Space Rock and Electronics. CD 5 (also available as a single CD under the title "Continuation") features new material, spherical passages and powerful driving guitar and synth solos like on "Linolenic Acid".
EDENSONG - The Atman Apocalypse (9:28)
Album: Years In The Garden Of Years (2016)
Label/Distribution: The Laser's Edge/Alive
www.edensongtheband.com
The New York EDENSONG serve the most varied retro-prog meal you can get your hands on: Folk with transverse flute, minimal music, gripping rock, crude rhythm changes and always tricky passages à la Gentle Giant, anecdotes and Co. This is champions-league-ripe like "The Atman Apocalypse", proves.
GENS DE LA LUNE - Sous off horreur (9:49)
Album: Epitaphe (2016)
Label/Distribution: Arts En Avant/gensdelalune.fr
www.gensdelalune.fr
This elaborate concept album by ex-Ange keyboardist Francis Décamps & Co. is dedicated on two CDs to the life of the French poet Léon Deubel (1879 - 1913). Prog based on Genesis, chanson-like singing and many sound plays with fair aesthetics. "Sous off horreur" is a perfect introduction to this theatrical cosmos.
THE MARCUS KING BAND - Ain't Nothin' Wrong With That (3:46)
Album: The Marcus King Band (2016)
Label/Distribution: Fantasy/Universal
www.themarcuskingband.com
They immediately step on the gas on their second album. The six-piece The Marcus King Band from South Carolina is about to start playing wind instruments. Their solo-driven Southern Rock with soulful singing takes any detour, but that's why it often arrives much faster. It swings, makes fun and anticipates their live concerts.
SEVEN IMPALE - Languor (7:35)
Album: Contrapasso (2016)
Label/Distribution: Karisma/Soulfood
www.sevenimpale.bandcamp.com
The Norwegian fusion band SEVEN IMPALE offers on their second album a crazy mixture of prog, jazz and experimental rock somewhere between Motorpsycho, Van der Graaf Generator, King Crimson and Frank Zappa. "Langour" is one of the most powerful and accessible songs of "Contrapasso".
FREEDOM TO GLIDE - Enigma (8:01)
Album: Fall (2016)
Label/Distribution: Rubystorm/Just For Kicks
www.freedomtoglide.com
With their second album, the British duo FREEDOM TO GLIDE have found their very own way to transport Pink Floyd atmosphere into the here and now and to pour it into exquisite song formats. This song proves (not only) that gripping solo performances are not neglected.
POOR GENETIC MATERIAL - Absence - Part 1 (edit) (10:12)
Album: Absence (2016)
Label/Distribution: QuiXote/H'Art
www.facebook.com/poorgeneticmaterial
Wonderful spherical sounds reminiscent of Pink Floyd, dense arrangements and a profound reflection on absence. On their new album the German band focuses on a warm atmosphere, joy of playing and a lot of emotionality. The title track, which frames the record and lasts almost 30 minutes, points the way.